This post may contain affiliate links. Read my disclosure policy here.
Hi everyone, Christie here…
When we did a racecar birthday party for my son a couple years ago I wish I had these ideas!
Make your own Cozy Cone Motel
I am in LA for the screening of Cars 2 and can't wait to do some of these crafts with the kids when I get back.
Tow Mater Cookies! (Don't feel bad, they're just cookies.)
Race Cars out of toilet paper tubes
There are a whole bunch more (thanks to Disney), including coloring pages, tire track tee-shirts, oil can holders that make really great storage (made out of frosting containers — so easy.)
Each craft comes with step-by-step directions on how to do it. So if you are really, really, really excited about taking the kids to see Cars 2 (like I am), you can make an event out of it at home, too. You can have a Cars 2 day (or week) and really have some fun together.
Here is the link to all of the fun goodies: Cars 2 Family Crafts
If you do any of these crafts, take pictures and blog about them and leave a comment below with your link.
Have fun!
Follow me @christieo and hashtag #disneydreamworksevent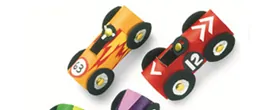 for coverage updates on Twitter.
More Disney Dreamworks event coverage:
What would you ask Lightning McQueen?
Now THIS Movie Looks Good: The Help
At Last It's Almost Here and I'm Going! Cars 2