This post may contain affiliate links. Read my disclosure policy here.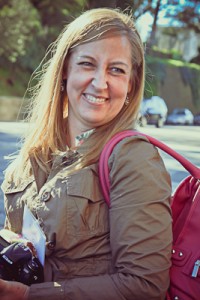 I met Gayle from Mom and Camera at a photographer's getaway in San Francisco earlier this year. Not only is she a mom to three gorgeous girls and a handsome boy, but she is a fantastic photographer. He blog is full of great resources for photographers.
Here's what Gayle told me when I asked her about her camera….

The Beginning
This crazy photography adventure began for me in December of 2003. My 3rd daughter was just a few months old. A friend and I were chatting on the phone about how we both wished we had the ability to capture better photos of our own families.
Just a few weeks later, my friend called to let me know that she had found a basic community photography class for us to take at the local high school. We signed up immediately. I don't remember if we knew before we got there that the class would be all about using an SLR camera and developing black and white film, but I do remember that we were the only ones who showed up with our digital point and shoot cameras (and most likely we are talking 4MP cameras here ladies!) This fact still makes me laugh. However, before the next class we had rented a film SLR which we shared for the remainder of the class. By the time the class had finished, we both owned our own SLR cameras.
My Cameras
My first camera set-up was a Nikon N80 film camera and a Nikkor 28-105mm macro lens. I don't remember all the reasons I chose Nikon, but I do remember that I liked the way the camera felt in my hands. I have never regretted my decision to use Nikon. I loved that camera and it was the camera that taught me that automatic features don't guarantee good images. It was also with this camera that I first started using manual mode almost exclusively. What I didn't like was waiting to see my pictures until they were developed. I was still in the learning phase and had so much yet to learn. I was teaching myself and I began wanting some more immediate feedback. (I have been thinking about getting some film and pulling this camera out again now that I am MUCH more comfortable with my exposures. Any recommendations for a good film to try?)
So, only about a year after I purchased my N80, I purchased my first digital SLR–the Nikon D70. My photography skills grew by an amazing amount while using this camera. I read lots of books, blogs, and tutorials and then practiced the skills that I learned–all while raising my 3 kids. And yes, they were and still are my favorite models–sometimes, much to their dismay. Having the immediate feedback about my exposures was incredible. I captured 4 years of family memories with that camera and LOVED it to pieces!
Why I upgraded from the Nikon D70 to the D300
I currently shoot with a Nikon D300 which I have owned for more than 3 years now! We have become VERY good friends! One of the reasons I finally decided to upgrade from my D70 to the D300 was the improved noise at higher ISO's. The technology in this area had improved A LOT between my D70 and the D300. I love that I can now raise my ISO above 400 and feel like I am not destroying my image.
I LOVE the Nikon D300's 51 focus points. I toggle my focus points as I shoot to ensure that my focus falls exactly where I want it and love that there are SO MANY to choose from!
I love it's color and pretty accurate auto white balance!
My Favorite Lenses and Why I Love Them
My favorite lenses are my Nikkor 50mm 1.4 (I just upgraded from my Nikkor 50mm 1.8 which I also LOVED) and my Nikkor 28-105mm macro lens–the first lens I ever purchased. I love the 50mm 1.4 for it's sharpness and the fact that I can open the aperture super wide to get lovely bokeh and for taking lovely pictures in low light situations (mainly indoors during the winter!) I love my Nikkor 28-105mm macro lens (this lens isn't available to purchase new anymore) for it's macro capabilities. I love to get close-up to nature and this is the lens that lets me do that!
I also have a Nikkor 18-200mm that I typically take on trips. I love that one lens can have such a wide range of focal lengths and be so versatile. I recently took it on our family trip to California used it almost exclusively to get our vacation shots.
My Favorite Photo Tips
1. WINDOW LIGHT: Window light is one of the best kept secrets for getting great photos indoors. I use window light almost daily–especially during the winter months. My favorite window is a south-facing set of french doors. But I use north-facing windows a lot, too. How do I use it? If I know I want to get some photos of my son playing, I will get his toys out and put them in a place where I know there is some good window light. I will open the blinds completely and shoot away. I typically still have to raise my ISO, but the resulting images are well worth it. I love that window light is such soft light and that I can get different looks depending on how I place my subject in relation to the window!
2) Give yourself projects or reasons to get out and shoot. When I do this, it helps to improve my photography more than almost anything else that I do. Some of the projects I have given myself include: Shooting only with a certain lens for a whole month or to shoot a backlit photo every day. Some others you could try are shooting one indoor photo by a certain window every day (or as often as you wish), shooting one object at 5 different angles, or shooting 10 pink (insert your favorite color here) things!
Gayle picked up an SLR camera 7 years ago and promptly fell in love with photography. She has been sharing her favorite photos and photography tips on her blog MOM AND CAMERA for the last 3 years and has enjoyed connecting with other moms who are excited about photography, too. She has 4 beautiful children and 1 extremely supportive husband. Outside of photography, she easily gets lost in bookstores, the school supply aisle or anywhere with pretty paper products!