This post may contain affiliate links. Read my disclosure policy here.
It seems so simple, really, how easy it should be to keep a box of markers intact. I am not sure what it is about markers and the little hands that use them, but for some reason, once those caps come off, the lives of the markers are over.
We have several shoe boxes in my home that are filled with hundreds of crayons, dozens of colored pencils and several dried-up markers. It's frustrating, and I had vowed to no longer purchase markers for my children.
A mother and former teacher, Rebecca Davidson, had the same frustration with not only the markers in her home, but the children's markers and dry erase markers in her classroom. Out of her frustration, came an ingenious idea: Cap Trappers.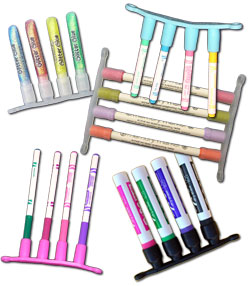 Simply place your markers into the Cap Trappers and the caps stay put. Clean-up is a breeze and even a toddler can easily place the markers back into their caps.
The versatile material allow the Cap Trappers to fit any cap size, from skinny to fat. They also work for individual tubs of glitter glue.
They are flexible, easy to transport and easy to store.
After receiving my set of Cap Trappers in the mail, I surprised my daughter with a box of markers. When she finished coloring, she surprised me, by placing her markers back into their caps, which were stored securely inside of the Cap Trappers.
The Cap Trappers are wonderful. And at $5.99 a set, they are a bargain, considering how much money they save in replacement costs.
Thanks to Cap Trappers, my daughter's markers will now live a long life in my home.
If you would like a set of Cap Trappers, please leave a comment below. We will be giving away 3 sets.
This contest is open to U.S. and Canada.
Please be sure you have read and are following our back to school giveaway guidelines.
Good Luck.