This post may contain affiliate links. Read my disclosure policy here.
My daughter's bedroom can be best described as a pink explosion. She has pink walls, pink curtains, a pink play castle and even pink bedding. And honestly, the pink princess room was my decision. But in a few months, her room will be going through a major remodel. Why? Because my daughter doesn't want a princess room. No, she wants a Star Wars room, complete with Star Wars figurines, light sabers, glow in the dark stars and even a light up moon. My little girl trades in play make-up for toy cars. She loves Batman and Scooby-Doo, and is infatuated with Star Wars. Although I long for her to be a girly-girl, my daughter is a boy at heart.
When Sassy Belle Jeans contacted me about sending a sample pair for my daughter, we had some choices to make. Sassy Belle Jeans are custom flare jeans for toddlers to tweens that allow for some mixing and matching to fit your daughter's ever changing moods and styles.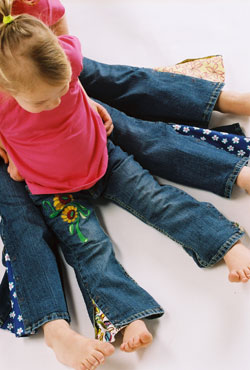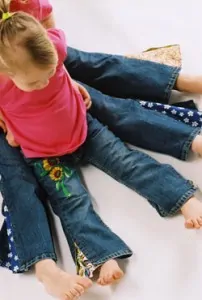 With interchangeable fabric panels, the look of the jeans can be changed in a snap.
With my daughter on my lap, we browsed the large selection of fabric panels. I was immediately drawn to the pink poodle fabric. But when my daughter saw the stars fabric, her decision was made. Since I couldn't let go of the that tiny part of me that longs for my daughter to love all things girly, I ordered both sets.
And that's what is great about Sassy Belle Jeans.
They can easily be changed to show off your daughter's favorite things: colors, animals, hobbies, you name it.
And did I mention the adjustable waist? The jeans fit her perfectly. They are very high quality, and the fabric panels quickly snap in place.
Jeans are a back to school staple and Sassy Belle would like to give one of you lucky readers a pair of jeans that come with one set of fabric panels.
To enter, please leave a comment below. Sassy Belle will ship to both the U.S. and Canada.
Please make sure you have read and are following our Back to School Giveaway guidelines.
Good Luck!