This post may contain affiliate links. Read my disclosure policy here.
When Jackson was a few months old – before I knew him well enough – I bought him a second-hand Thomas the Train set.
Okay, to tell you the truth, I didn't just buy him one set. I went a little crazy. I bought him TONS of trains, tracks, etc. I don't even know how much. But it cost me too much money – even at a swap meet.
But I figured – he is a boy. He will love trains. Even I loved playing with our wooden train set when I was young. My siblings and I would play for hours, reassembling the track a million different ways.
When Jackson was old enough, I pulled out one of the sets. (I thought I would keep it exciting by only introducing one box at a time.)
But to my disappointment, Jackson was less than interested. Apparently, playing with trains was not his thing.
First, it was sports that had his undivided attention. His first word was "ball," and he was obsessed with hockey. Before he could walk, he brandished a hockey stick, crying out, "ball!"
But soon my testosterone infused son's other interests appeared and I learned that, among a few other things, Jackson was made to rid the world of evil! Yes – Jackson was preoccupied with the conflict of good and evil. Everything was "good guy vs. bad guy."
As an anti-violence kind of girl, I was horrified. Despite the lack of toy-guns in our house, Jackson instinctively knew how to arm himself with stick or finger or rubber spatula and wage war on invisible enemies.
I tried to redirect his action-needs to Rescue Heroes. At least there he had good role models who bravely came to the aid of people in need. But while it worked for awhile, he outgrew Rescue Heroes and discovered things like Pokemon, Star Wars and Transformers.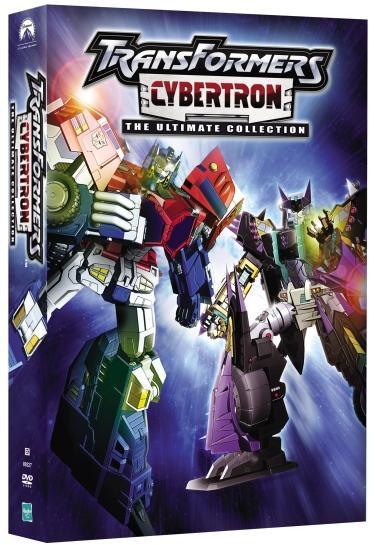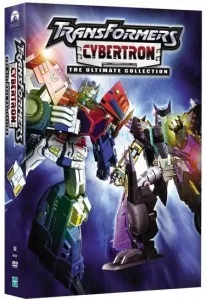 So when an email popped into my inbox asking us to review the new Transformers Cybertron – The Ultimate Collection, I knew I had to say yes. My son would be devastated if he knew I said no!
And, by now, I have accepted his love of Transformers. I recognize his innate need to fight bad guys with fast paced action characters. I have bought him Transformers toys – which he plays with for hours on end – and let him watch numerous webisodes on www.hasbro.com.
need to destroy evil forces.
"This power-packed release features all 52 episodes from the long-running 2005 Cartoon Network series based on the classic program from the '80s. TRANSFORMERS CYBERTRON: The Ultimate Collection includes hours of adventures full of intrigue and surprise and is the ultimate gift set for fans of the legendary "robots in disguise". The seven-disc set is available for the suggested retail price of $61.99."
The PR firm actually accidentally mailed the two prize copies to us in Canada. So, for you Canadian readers who always get left out of contests, I am going to keep this contest only open to Canada! WooHoo!
If any of you Canadians have kids that like Transformers, leave a comment here to enter to win. We have two copies to giveaway to two lucky Canadians.
The Transformers Cybertron – The Ultimate Collection is incredibly cool, I must admit. If your boy is a Transformers fan, he will be thrilled to have seven discs of Transformers action.
We will announce the winners on August 22nd.
This giveaway is only open to Canadian shipping addresses.