This post may contain affiliate links. Read my disclosure policy here.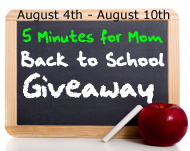 This giveaway is going to be a little different from what you are used to here at 5 Minutes for Mom. But, believe me, it's worth it.
We recently teamed up with Ciao, a multi-million-strong online community that critically reviews and rates millions of products and services for the benefit of its members and users.
Ciao began in Europe, in 1999, and has become Europe's largest comparison shopping site to date. And in 2008, a beta version of Ciao.com launched in the United States.

Not only can you browse from millions of consumer reviews and shop online for the best products and prices, but you can also help other shoppers by creating your own reviews on electronics products that you own and use. It's those accurate and honest reviews from regular people that have made Ciao.com the reliable go-to source.
Ciao is also a great place to connect with other shoppers and get the latest info on the "hot" new technology products (like the latest iPhone, Nintendo DS games and laptops).
And to thank you for your time, Ciao will pay you $1.00 for each qualifying review you contribute. Are you trying to now figure out how many gadgets are in your home that can earn you a buck?
It's quick and easy to join. Not only does Ciao want to help you earn some cash, shop the best prices, and make the best decision before purchasing a product, but they also want to give one of you a Sony Cybershot Digital Camera.


We also thought that a Sony Cybershot Digital Camera would be a great back to school item. How many of you dress your child in their best outfit, stand them by your front door, and make them pose for a picture on the first day of school? Come on, admit it, you know you do.
Wouldn't it be wonderful to take that picture with your new Sony Cybershot Digital Camera? Thanks to the Sony Cybershot's smile shutter feature, you don't have to worry about having to take five pictures before finally getting one with your child's adorable smile. With the smile shutter feature on, the camera will automatically take the picture as soon as a smile is detected.
So, here's what you have to do to win:
First, in three easy steps, sign up for Ciao and submit a review for a product you own and use.
Once you have submitted your review and joined the Ciao community, come back to this post and comment by linking to your Ciao profile or providing your Ciao Username.
It will be quick and easy. And hey, you'll earn a buck in the process. And you could be our winner in the Sony Cybershot back to school giveaway.
The winner will receive a Sony Cybershot DSC-W120 Digital Camera in their choice of color (black, silver, pink or blue). The contest is open to both U.S. and Canada. With the help of Ciao, we will select a winner at random, from the commentors who provided their Ciao Username or link and submitted a review on Ciao.com.
Good Luck!