This post may contain affiliate links. Read my disclosure policy here.
If you love books, be sure to check out our Books site. We have reviews for novels, children's books, babies' books, and informational non-fiction.
I know, I know, "Suicide"–right in the title. But stick with me for a few paragraphs before you turn away to think about something less depressing.
Looking at the full title gives a more accurate description of what the book is about. The Suicide Index: Putting my Father's Death in Order is a memoir by Joan Wickersham in which she attempts to do what she says in the title. Sixteen years ago, when Wickersham was married and raising a family of her own, her father inexplicably pulled the trigger to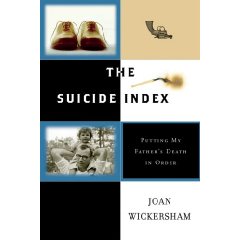 end his own life. There was no note, there had been no threats, it just happened.
In her determination to find out why, she delves into what made her father who he was. She uncovered his abusive upbringing, business failings and personal humiliations, the intricacies of an aging marriage. This combination makes for an interesting read: part biography of her father and part memoir of her responses to him.
The chapters are short and varied in style and tone and point of view, each filed under a different index, such as "Suicide: day after, search warrant," and "Suicide: other people's stories concerning."
This book would certainly be a help to someone whose experienced the death of a loved one in this manner, but for those of us who love memoir of any sort, it's an illuminating look at family dynamics, before and after this tragic event.
After reading this book, I realized that it's more common than I thought, and that as the author was trying to get across, suicide doesn't completely invalidate all you thought of that person before.
If you'd like to win one of two copies (U.S. shipping addresses only), leave a comment and we'll draw a winner and post it in next week's column.
The winners of last week's book The Moon in the Mango Tree are #120 Janet F and #58 Tonya Froemel.