This post may contain affiliate links. Read my disclosure policy here.
Time for Summer Packing…

For our family, summer involves a lot of packing, unpacking and laundry!!! A ton of it in fact. (By September, I am usually relieved summer is over because I can finally get a break from all the packing!)
So each summer, I need to make sure that Jackson's wardrobe is ready for summer. For us to survive all the dirty days at summer camp and at my family's cabin (where washing machines are not an option,) I need a huge amount of clothing supplies.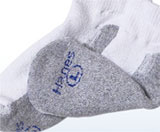 I simply cannot bear to wake up in the morning and put dirty clothes on my kids. I know that they will be the color of dust in a matter of minutes, but I need to at least start the day with a clean slate. So our suitcases are stuffed with simple and inexpensive clothing staples, like basic t-shirts, lots of extra socks and underwear, and a fresh pair of shorts for everyday.
The great thing about kids' clothing – especially clothes for summer – is that there are inexpensive options like Hanes Kids.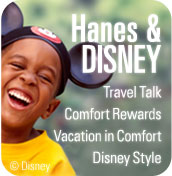 This summer, Hanes wants to get you and your kids ready for traveling with some helpful travel tips from Emily Kaufman, aka The Travel Mom.
And for some contest fun, they teamed up with Disney to offer families everywhere in the US the chance to "Vacation in Comfort" with a family vacation to Disney during The Year of A Million Dreams at Walt Disney World® Resort. (The contest runs from June through August 30, 2008 and seven winning families will be drawn on Tuesday, September 21. You can visit www.hanes.com/vacationincomfort for additional details and to enter.)
Of course, we also have a giveaway for you – we have two $50 gift certificates to Hanes to giveaway. If you want to be one of our two winners, leave a comment to enter. We will announce the winners July 15th. (This contest is only open to US shipping addresses. So sorry fellow Canadians!)

What about your family? Do you do a lot of summer traveling?