This post may contain affiliate links. Read my disclosure policy here.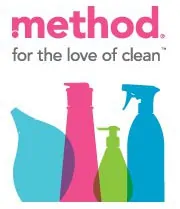 Okay, this is cool and we think you're going to want to get in on it…
Trust Method to find a way to make a video about laundry that you will want to watch over and over!
Yes, Method, the brand that makes us rethink cleaning products — from their innovative design to their commitment to environmental change — is continuing to make cleaning cool, this time with a crowdsourced music video.
Now, at first we thought, "How could a video about a laundry detergent be cool?" But that was before we saw the vision for this video. Once we did, we just sat in front of our laptops stunned and kept hitting replay. It was that fabulous.
And after getting to know Method, we can understand why their customers aren't just consumers of their cleaning products. They are Method FANS — joining in the movement of "People Against Dirty."
From now until April 15th, Method fans can grab their video cameras or webcams and submit an entry to be a part of Method's Laundry Room Love crowdsourced music video.
Why would you want to take the time to submit a video? Well, why do people join flash mobs? Because it is a thrill to be a part of something bigger than yourself that is just plain awesome.
SO if you want a chance to be in the video, watch Method's How-To video on how to submit your video. And don't forget to "Like" Method's Facebook page too!
By the way, the first 200 submissions will get a free bottle of method laundry detergent and everyone who watches the how-to video will get a $2 redeemable coupon for the laundry detergent. But this isn't about getting free detergent. This is about being a part of something new and exciting and something represents what Method is all about.
Oh — and in case you haven't tried Method's laundry detergent yet and are wondering what makes Method so great, here are just a few of the reasons:
Smarter – one bottle can tackle 50 loads of laundry with a quarter of the dose of leading brands.
Easier – the precision-dosing pump can be used with one hand and prevents over usage.
Greener – method's laundry detergent is made with 95% natural and renewable ingredients in a recyclable bottle.

And if you REALLY want to get excited about cleaning, click over to Method and read their story and their humanifesto. What did I tell ya? These are cleaning products a girl can REALLY get excited about.

Please Note: We are working with Method to spread the news about Laundry Room Love. But, as usual, we only post our own opinions. We sincerely love what Method is all about and this video is going to be fabulous. We just hope we make the cut and get in the final edit too!
Written by mom blogger, Janice Croze, co-founder of 5 Minutes for Mom.
Talk with me: @5minutesformom and Facebook.com/5minutesformom.