This post may contain affiliate links. Read my disclosure policy here.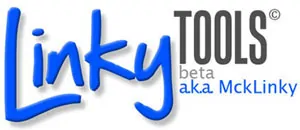 We live on Linky Tools! Browse through 5 Minutes for Mom and you'll see post after post with Linky Tools widgets.
We choose to use Linky Tools because it is reliable and robust, with new features constantly being added.
With our Ultimate Blog Party almost ready to start, we can relax knowing that Linky Tools won't let us down, even with MANY linkies in one post and thousands of bloggers linking up. We can rest easy tonight. It's nice to have that peace of mind.
In case you have been unaware of the features and benefits of Linky Tools, we thought we'd quickly share a few with you.
What are Linky Tools?
Linky Tools provides a way to allow your readers to leave links, in a fun and organized fashion. With many types of Linkies to choose from, the ways in which you can use Linky Tools is endless.
Here are some examples of the fun linkies that Linky Tools offers: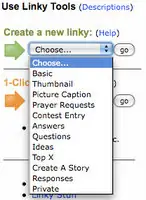 Basic Linky: This is the basic linky List… people leave a title and link it to their blog. Use it for any reason you can dream up.
Thumbnail Linky: A thumbnail linky has a collection of image thumbnails instead of a list of text titles and links. You'll see this one on our Wordless Wednesday posts.
Blog Hop Linky: A Blog Hop is a group of bloggers who display the same list of links on their blogs, usually with some sort of theme or topic.
Picture Caption Linky: 1) Invite readers to leave suggested picture captions, then 2) rank them or choose winners.
Prayer Request Linky: Have your readers leave their prayer request and link.
Answer Linky: Ask your readers a question and let them leave their answer and a link to their blog or email.
Question Linky: Have your readers leave their questions for you and a link to their blog or email.
Create A Story Linky: Fun! Start a story in your blog post and invite your blog readers to help "write it" by adding on to the end of the story (the list). Use a theme or plot, or just start one and see what happens.
Why We Choose Linky Tools
There are a couple of options available for link up services these days, but we consistently choose Linky Tools.
Linky Tools is much more than a linky service. It is Founder, Brent Riggs' passion. With his Linky Tools blog, he takes the time to share tips and tools from creating posts to building traffic. He is also committed to his users, trying to make his Linky Tools the best that it can be, listening to suggestions and building the best service that he can. Linky Tools is something he truly cares about. We can attest to that.
You will notice that after a 30 day free trial, Linky Tools requires a paid subscription. Yes, 5 Minutes for Mom is a paid subscriber. While Brent Riggs originally began Linky Tools as a free service, because of its phenomenal growth, he could no longer fund it out of his own pocket. But subscribing to Linky Tools is still affordable, at only $2.00 per month.
Why subscribe? Because this is the best linky system on the Internet. Brent is constantly adding new tools and features.
The tools, the traffic it brings you, the web links back to you, the increased exposure on the Internet from the blog directory, blog hops and lists… all for about half a cup of coffee a month.
And for subscribers, there are new features coming soon including optional email notifications when someone enters a link on your list, click stats on your links, multi-list creator function, blog meme directory and much much more.
Simply put, IT'S WORTH IT.
How To Use Linky Tools Here At 5 Minutes For Mom
You will notice that we use Linky tools on our weekly memes as well as for Twitter Party RSVP's. Here's how to make sure you are entering your link correctly. First you will enter your blog name or post name, depending on the meme or party you are contributing to.
Then you will enter the url that takes readers directly to your specific post. It is very helpful to always link to the specific post on your blog, as opposed to your main url. This way visitors who visit the meme several days later, will be able to easily find your post, instead of having to sift through blog posts that you have published since then.
When you use your Twitter handle to RSVP on our Twitter Party posts, for the url, you will link to your Twitter page. For instance – http://www.twitter.com/5minutesformom.
After you have entered your information, click on "Enter Your Link" and you are all set. See, that was easy, wasn't it?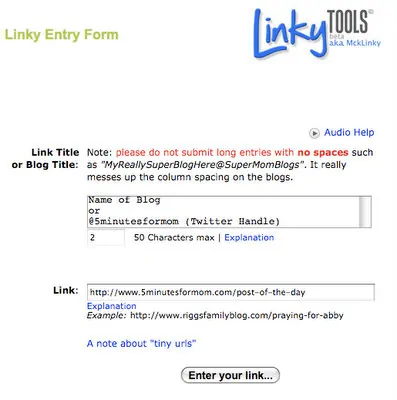 Once you have entered in your information, go back to the original post, click on various links within the linky list and have fun blog hopping.
How To Use Linky Tools On Your Own Blog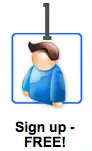 Are you ready to enter a Linky on your own site?
First you will need to sign up. It is free for the first 30 days and they don't ask for any payment information up front. To sign up, just go to Linky Tools and click on the Step 1 icon at the top of the page. You will soon be on your way to registering.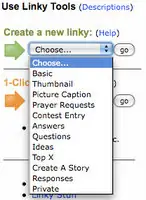 Once you are all signed up, it's time to create a new linky.
At the Linky Tools dashboard you will see an option for creating a new linky. Just look for the big green arrow.
There are many linky options to choose from. At 5 Minutes for Mom we use the Basic Linky and the Thumbnail Linky the most.
Once you select your linky, it's time to give it a title as well as a start and end date. To organize our Wordless Wednesday Linkies, we use WW followed by the date published. For the "Length of User Title Entry", we keep it at 50 characters, which is the suggested length. Then select the dates you would like your Linky to be open, and you are done.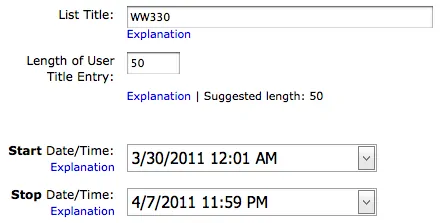 Be sure to select "click to get the code to insert into your post". This will send you back to your dashboard and your new linky will be at the very top of your list. Then simply click on "Get Code" and your code options will pop up in a new window.
There are two code options available. The first option is for Blogger, WordPress blogs that are not hosted on WordPress.com for free, or blogs that allow javascript. We use the first option at 5 Minutes for Mom. The second option is for free WordPress.com blogs or blogs that do not allow javascript. Copy the desired code, place it into your post and you are all set.
And now that you are a Linky Tools expert, you are all ready to party with us TOMORROW for our 5th annual Ultimate Blog Party!
Party with Us and Linky Tools at the UBP 2011


Don't forget to join us for our Ultimate Blog Party, starting at midnight tonight, as thousands of bloggers come together to participate in an enormous link up powered by Linky Tools. During the Ultimate Blog Party we'll virtually "party" together in a blog carnival style, visiting each other's sites and getting to know one another. There are hundreds of prizes but the big reason you want to be there, is you'll form genuine, lasting friendships and ignite your community.