This post may contain affiliate links. Read my disclosure policy here.
I like to eat well. I make good food choices – lots of veggies, whole grains, low-fat protein, etc. If you looked in my fridge, I think you would be pretty impressed.
And I do it all so that I can indulge on a somewhat regular basis – I want my cake and I definitely want to eat it too! (And I do, let me tell you – to say I have a sweet tooth is to ignore the rest of my body that also screams for dessert.)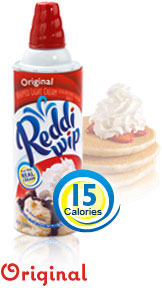 Two of the most dangerous and delicious treats I allow myself for good behavior are ice cream and whip cream. Again, when choosing how I am going to indulge, I most often reach for light versions of the good stuff. I figure if I indulge wisely, then I can do it more often. (Do you see a theme in the way I work?)
So when Reddi-wip® wrote to me about their product and how it is made with real cream NOT hydrogenated oils like the other whipped topping I had been using and has only 15 calories per serving, I was very intrigued. In Canada, I hadn't seen Reddi-wip® in my grocery store, so I had never tried it. But they tell me that it is available here, so I am going to hunt me down some that stuff. It sounds like it was created by angels!
While some whipped toppings are made with hydrogenated oils, Reddi-wip® has always been made with real dairy cream. With Reddi-wip®, you know you're getting the high-quality ingredients and real cream taste that you and your family deserve. Nothing's more real than Reddi-wip®

And when Reddi-wip® wanted to treat one of you to a year of free Reddi-Wip and Ben Jerry's ice cream, how could I say no?
How could I keep that from you?
I imagine I am not the only one who likes to sweeten a late night blogging session with a bowl of ice cream smothered in whipped topping?
So what else could I do but say yes? You deserve it, right?
You eat your veggies. You pick up the whole grain bread and leave that fluffy white stuff for someone else who isn't trying to earn her way to a creamy, melt in your mouth, reason to live, bowl of ice cream smothered in real cream. Right?
I thought so.
So here is what I can do for you.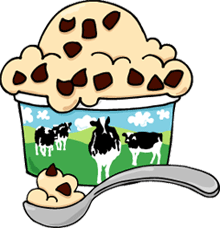 You promise to eat your veggies AND you leave a comment here telling me some of your deepest, darkest food secrets or why you deserve a year of free Ben and Jerry's ice cream and Reddi-wip®, and I will choose one of you to win:
A year's worth of Reddi-wip® and Ben & Jerry's ice cream!!!
2 coupons per month for a free can of Reddi-wip® (whichever variety you like!)
2 coupons per month for a free pint of Ben & Jerry's (redeemable anywhere B&J is sold, for any flavor!)
We will announce the winner June 12th, 2008. This giveaway is open to both US and Canadian shipping addresses.
Then, I will go out to the store and pick up myself some Ben and Jerry's and Reddi-wip®, cause really – I deserve some too.