This post may contain affiliate links. Read my disclosure policy here.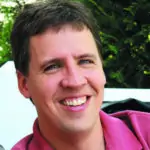 Do you know Jeff Kinney, author/cartoonist extraordinaire? If you have children in the 9 to 12 age set, perhaps you've seen his Diary of a Wimpy Kid series, with five "novels in cartoons" released so far, in the hands of your own child. The Wimpy Kid books have become a phenomenon among young readers all on their own, which I can personally attest to as the mother of a ten year old boy. When the first book jumped from the page to the screen with the 2010 release of the Diary of a Wimpy Kid movie, fans of the book watched Greg Heffley transform from a simple line drawing into the flesh, as portrayed by Zachary Gordon, and the complete tone of the first book brought to life before their very eyes.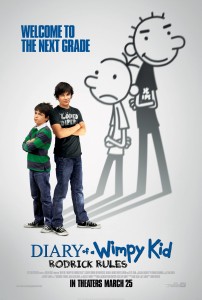 Well, Greg is back in the theaters with the March 25th release of Diary of a Wimpy Kid: Rodrick Rules, and I know it's getting a lot of talk in my own house! After reading the first two books myself, as well as catching the first movie on DVD with my son, I have to admit that I'm interested in catching this sequel, too.
I was recently honored to represent 5 Minutes for Mom in a chat with eight other bloggers and Jeff Kinney himself. Many of us professed our new-found stardom in our children's eyes as a result of simply being on the call, and Jeff was quite gracious and open to answering all sorts of questions that we posed about the development of the books, his opinion of the movies, and his future projects.
Although I feared potentially offending him, I couldn't help but ask Jeff a question that addressed some parents' concerns that the Diary of a Wimpy Kid books portray a character who is… less than a great role model, let's say. Thankfully, he didn't boot me off the call, and his response struck me as quite thoughtful:
"I've tried to create this character that is funny because he's imperfect. And I know that might sound like a copout. But for somebody to say that Greg is a bad kid or a rude kid, I don't quite agree with that. I would say that he's flawed. He's a kid whose life is being documented at a time that nobody would want their life documented.

I've come to find that kids have a certain sophistication in the way that they read these books. They don't see Greg as a role model, but they might share his point of view from time to time. Mark Twain, for example, wrote about these characters, Huckleberry Finn and Tom Sawyer who were not model citizens. But he trusted his readers to figure it out for themselves."
I was also surprised to find out that not only does Jeff Kinney still hold down a regular old 9 to 5 job in addition to writing and illustrated this beloved series, he's also the brains behind one of my son's very favorite websites, Poptropica! And if you're located in the Washington, DC, metro area (like me!), you'll be happy to know that he will be appearing at the annual big event of his alma mater, the University of Maryland's Maryland Day in late April. (We'll be in line for his book signing, for sure.) And don't worry– he's hard at work right now on another Wimpy Kid book for the series!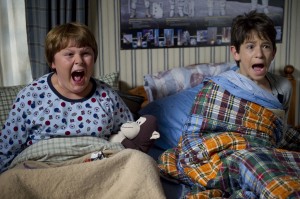 As far as the movies go, Jeff is pleased with the portrayals, acknowledging that the approach to making the films differs from the writing process. He's been involved with the movie production developing scripts, helping with casting decisions and being on set at times, building relationships with the actors and even contributing "gags" as the movies were being filmed. I especially enjoyed this comment he made: "I feel great that we're making live action movies, with real kids who are actually in middle school. It's quite different than the rest of the field, which is mostly 3D and computer generated. I think there is something almost retro about these movies."
If you haven't seen it yet, be sure to check out the official movie trailer for Diary of a Wimpy Kid: Rodrick Rules, or even "like" the movie on Facebook.
The 5 Minutes for Books team is happy to be offering a "bookish" giveaway today in conjunction with the upcoming movie release.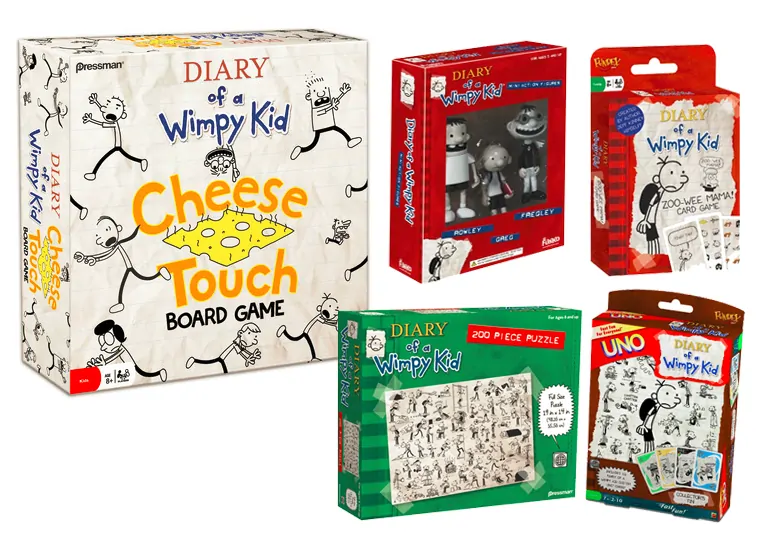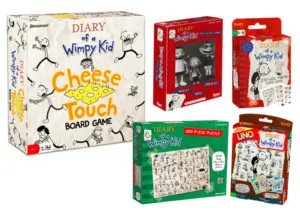 One lucky winner will receive four Diary of a Wimpy Kid games and toys (total prize pack valued at $79.00):
the Zoo-Wee Mama Card Game
The Cheese Touch Board Game
a Wimpy Kid Action Figure
a 200-piece puzzle
Diary of a Wimpy Kid UNO
To enter, please leave a comment, U.S. mailing addresses only. The winner will be announced in this column on April 4.
Giveaway courtesy of 20th Century Fox.
The winner of our previous giveaway is A Double Life: Discovering Motherhood is #13 melissa n.
5 Minutes for Books reviewer Dawn and her son are currently bonding over a certain Wimpy Kid. Their own wimpy stories are told at her blog, my thoughts exactly.