This post may contain affiliate links. Read my disclosure policy here.
We have a winner.
We received over 5000 votes, and the people have spoken.
The winner of $1000 in the Egg Beaters' Mother's Day photo contest is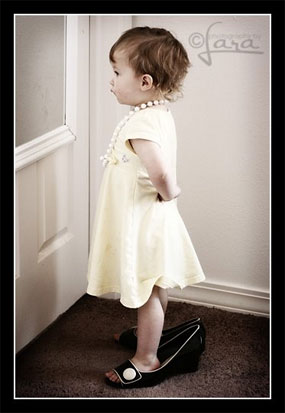 Lara explained why she entered this picture:
I bought these new shoes recently (aren't they cute?), and Sophia has completely taken them over. She seriously won't let me wear them. If I want to wear them she freaks out and puts them on herself. If I manage to get them on my feet without her knowledge and she sees me with them on, she physically tries to get them off of me. Even though I keep them in their shoebox in my closet, she knows which one it is and wears them all the time. I'm pretty sure she's worn them way more often than I have in the short time I've owned them.

I love this picture because it just reminds me how much my children look to me as their example. Sophie sees me look in this mirror every day as I get ready. She sees me wear jewelry. She sees me wear stylin' shoes. She wants to be like her mommy in everything she does. She's always watching me and often copying the things I do.

Just makes me realize I need to make sure that everything I do is copy worthy, because that is how I teach my children the most: not with my words, but with my actions.
Thank you all for sharing what Motherhood means to you.
And last but not least, we want to thank Egg Beaters and their delicious new Egg Beaters with Yolk for sponsoring this contest with an unbelievable $1000.00 prize!