This post may contain affiliate links. Read my disclosure policy here.
Anyone with little girls around the house knows how easily all those hair bows can get misplaced. But what's the best way to store them? If you're like us, we have so many that if I can't readily see them, I forget they're there.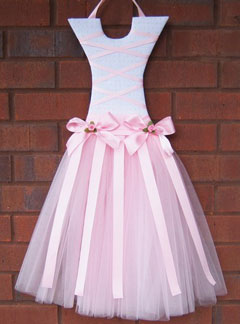 Well, Bambina Ballerina has the answer. Why not display them on an adorable wall hanging? And when I say adorable, I really mean it. I've seen her colorful Tutu Hairbow Holders on her site but when I received one in person, I was speechless! It was so pretty that I considered hanging it in my room instead! I could tell that a lot of time, effort, and pride was put into making this quality piece.
Bambina Ballerina is owned by Trisha, a SAHM to a beautiful 3 year old girl. She was inspired to design these unique bow holders because she was tired of purchasing expensive hair accessories only to end up losing them somewhere along the way. So she came up with a practical yet stylish solution.
The large bow holders measure approximately 28-30 inches long and the minis are 15-17 inches. All are made from soft flannel or cotton, paired with a color-coordinated tulle skirt. The ribbons are where you would actually clip on your hair bows and some designs even have a criss-cross pattern across the bodice to hold bobby pins or the smallest of clips.
How would you like one for your little girl? Bambina Ballerina has generously donated a $25 gift certificate to be used in her boutique. You could get a free mini holder or use it towards a large one! A random winner will be selected from the comments below on Thursday, May 29th.
This giveaway is open to both Canadian and US shipping addresses.