This post may contain affiliate links. Read my disclosure policy here.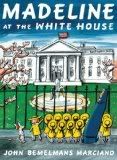 "Their old house in Paris is covered with vines and they travel about in two straight lines. Their plane gets in at half past nine. The smallest one is…"
I am sure that most of you can finish this sentence. Madeline has been a beloved children's character for more than half a century. Author Ludwig Bemelmans introduced Madeline in 1939, and he wrote many stories throughout the next two decades. Thanks to his grandson, John Bemelmans Marciano, children can enjoy new Madeline stories today. The latest release, Madeline at the White House, is a delightful story about Miss Clavel and her girls visiting Washington, D.C. I find it especially interesting that Madeline's trip to D.C. was the original idea of Ludwig Bemelmans (he imagined Madeline visiting the Kennedy children), but he was never able to finish the book. John Bemelmans Marciano has taken his grandfather's idea and created a story that fits perfectly with the rhythm and style of the original Madeline series.
In Madeline at the White House, Miss Clavel and the girls visit D.C. over Easter weekend. The girls have a wonderful time participating in the White House Easter egg hunt, and Madeline befriends the President's daughter, Candle. Madeline and Candle manage to escape the White House and see the Lincoln Memorial, the Capitol, the Jefferson Memorial, and the Washington Monument; and they manage to return to their beds before the Secret Service knows what has happened.
Madeline at the White House is a charming story that will please children and parents. It is a story to be enjoyed, but it is a wonderful way to introduce the nation's capital as well. Besides the locations mentioned above, the book also includes scenes from the Oval Office, the Lincoln Bedroom, and the South Lawn. I encourage you to pick up a copy for yourself today.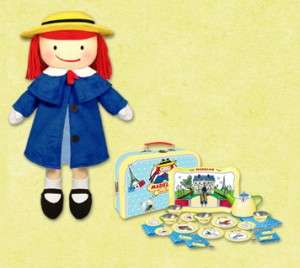 If you would like to win a fantastic prize package worth $68 which includes a copy of Madeline at the White House, a tin tea set and a soft 16 inch doll, please leave a comment on this post. Only one comment per person, please. This giveaway is open to U.S. shipping addresses only.
We will announce the winner on February 21.
For all of you Madeline fans out there, I will end my review in true Bemelmans' style: I hope my review wasn't a bore. That's all there is, there isn't any more.
The winner of our last giveaway for the book Soup Day is #34 Hippie4ever. You should have received an email from us.

We currently have FIVE giveaways open at 5 Minutes for Books, including one for an Open Season 3 DVD and video game package. Check them all out now!
5 Minutes for Books contributor Lauren is a wife, mother of two, and an avid reader. She blogs at Baseballs and Bows.