This post may contain affiliate links. Read my disclosure policy here.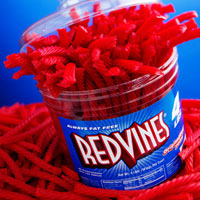 I must say – I had never heard of National Licorice Day. But hey – why not celebrate those twisty, yummy treats!
In fact, I think it might be just the excuse I need to grab some sweet Red Vines at the store today and chew my way back to my childhood.
When the American Licorice Company wrote us to help them promote National Licorice Day – which this year marks the 50th anniversary of Red Vines Original Twist Trays – and their 2008 National Drawing Contest, we thought, "Sure – that sounds fun. And free candy for some lucky winners – all the better!"
So if you are in the mood for some licorice fun, leave a comment at this post. Five lucky 5 Minutes for Mom readers will win Red Vine prize packs. (This contest is open to both US and Canadian shipping addresses. We will announce the winners on May3rd.)
Each 5 Minutes for Mom Red Vine Prize Pack will include:
Candy
Original Red Twist Jars 4-LB
Original Red Twist Trays
Strawberry Sugar Free Vines
Black Licorice Sugar Free Vines
Promotional Materials
Hat
T-shirt
Stickers
And if you are an artist – or you have a budding artist in your family – be sure to check out their fantastic drawing contest. There are three different age categories, so everyone is welcome! Go to www.redvines.com to read all about it.
Contestants can enter their original artwork in one of three age categories – ages 6 to 12, 13 to 18, and 19 and over. Ninety-four entrants will be selected to have their illustrations appear on the inside of Red Vines brand candy trays starting in January 2009.

In addition, contestants will compete to win a number of exciting prizes:

One grand-prize winner from each age category will be eligible to receive their choice of a $5,000 educational scholarship or a trip for four anywhere in the United States.
One first-prize winner from each age category will be eligible to receive $500.
Five second-prize winners from each age category will receive $100.
24 third-prize winners from each age category will receive a Red Vines Gift Pack of delicious treats valued at $50.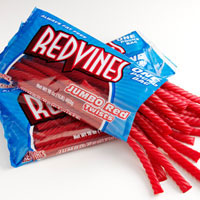 Some Fun Red Vine Facts:
Each Red Vine twist is eight inches in length. The longest Red Vine brand candy ever made measured 40 feet long, which is taller than King Kong.
Much like cookies and cakes, ingredients in Red Vines twists are mixed to form a licorice dough and then baked. It takes three days to make a Red Vines twist and then each Red Vine needs at least 12 hours to cool.
More than 606 miles of Red Vines brand candy are made each day and more than 151,500 miles each year, which is about 50 times what Forrest Gump ran while running for three years, two months, 14 days, and 16 hours.
Red Vines brand is the number one, non-chocolate confection in the West. Utah consumes the most Red Vines candy per capita.
Red Vines brand candy is made with wheat flour, making Red Vines brand candy great for baking. Visit www.redvines.com for delicious recipes.
Happy Licorice Day! 🙂