This post may contain affiliate links. Read my disclosure policy here.
Kelly Corrigan is a mom of two preschoolers. She's a mom, but she's also still very much a daughter. She is in The Middle Place. Kelly tells her story by looking back at the role her parents have had in her life, mostly in adolescence and young adulthood. It's not so much about her specific experiences, but how growing up in her particular family has made her who she is.
So who is she? She's strong, confident, the life of the party, a mom who might occasionally undertake a big paper mache project, but who is also too-often tied to the computer. But more than anything, she is George "Greenie" Corrigan's daughter. This book is as much about how a daughter perceives her doting dad as it is about Kelly .
When Kelly is diagnosed with breast cancer in her 30's, her friends and family rally around her. She is absurdly upbeat when sending out mass e-mails about her condition, not knowing how else to tackle this problem. Her honesty about her experiences with her breast cancer is instructive–chronicling both the emotional and physical changes and hurts she's experiencing, in a matter-of-fact way.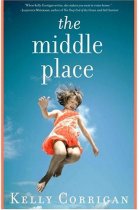 (Kelly has since started a website, Circus of Cancer.org, which serves to guide people in helping a friend through breast cancer. Her photo journal of the entire process is a window into what the patient is feeling and can help those of us on the outside better understand what our friend is or will be going through.)
Reading her story will make you appreciate the family you had, and perhaps make you long for that family that you didn't have. I laughed aloud, I examined my past and my present, and I hoped right along with her that everything would be okay–for her and for the father who she loves so much.
You can read an excerpt of the book HERE, and see the book club questions HERE.
I have four copies of The Middle Place to give away. If you'd like to win, please leave a comment. I will announce the winners in next week's column.
The winners of Red Dragon Codex are