This post may contain affiliate links. Read my disclosure policy here.

If you have boys, you most likely own lots of toys with wheels. My youngest son is a cars fanatic, from trucks to Hot Wheels, he spends most of his day sending his toy automobiles cruising around the house.
For our final Christmas Giveaway post, we have two toys with a combined total of 6 wheels, perfect for your boys (or girls) who are constantly on the move.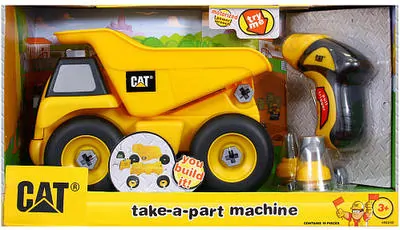 First, for the younger crowd we have a CAT Take-A-Part Trucks: Dump Truck. Isn't it adorable? My two-year-old LOVES this toy.
Join the service team with great take-apart and put together play! Use the power drill to remove the screws and take off the tires, cab, dump bed or blade. But that's only half the fun! Put it all back together again and it'll be good-as-new and ready to roll on the job site!

19 Pieces
Requires 2 X AA batteries (demo batteries included)
Retail value $16.99
For the older crowd, we have The Shox Scooter.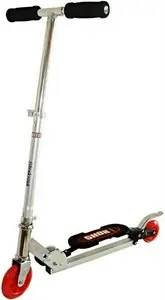 Prepare to be "shocked" by the Shox Scooter®, the first-ever active shock absorber scooter that allows riders to perform higher, faster, more awesome tricks!

Unlike traditional scooters, the Shox Scooter's supreme shocks increase a rider's speed and air-time, making stunts bigger and better. The Shox Scooter is built with a new, innovative spring shock deck that not only absorbs impact when landing jumps and stunts, but also springs back to increase the rider's power.

Also, the scooter's sturdy back brake further enhances control and safety while riding. Comfortable, easy-to-grip black foam handles adjust to various heights, accommodating children of all sizes.

The Shox Scooter is built from lightweight aluminum, designed to increase speed, and make traveling easier. And, the scooter conveniently folds in half, making storage quick and easy so kids can take them everywhere.
I was sent a Shox Scooter to review with my 7-year-old daughter, but we have been out of town and then it became much too cold outside, so she hasn't had the chance to use it just yet. This will be her first scooter, so while it gives her the option to perform fun stunts, I think we will start her off on the basics.
If you have a daredevil in your home however, The Shox Scooter will make for a fantastic present under the tree.
Do you want to win one? We are giving one lucky reader both a Shox Scooter, retail value, $59.99 as well as a CAT Take-A-Part Trucks: Dump Truck. To enter, just leave a comment below.
This giveaway is part of our Christmas Giveaway 2010 event. If you haven't already, please be sure to visit our main Christmas Giveaway 2010 post to review our giveaway rules and to find out how to earn additional entries.
This giveaway is open to US and Canadian shipping addresses and closes on December 4th.This giveaway is void where prohibited. Please see our site's terms and conditions for our complete contest rules.
Thank you to Child's Play for providing us with review samples as well as prizing for our Giveaway and for donation in our Under The Tree program.