This post may contain affiliate links. Read my disclosure policy here.
You may be a fan of the other grid-type puzzles out there. Like me, you may have tried to introduce your children to them (or your children may have begged to try after watching you puzzle over them each day).
En

ter Picross 4 Kids.
Picross For Kids is an illustrated logic puzzle book written by Matt Needham and Brandon Wood, a math major and father of 3. It sets out to make a unique kind of picture logic puzzle accessible and fun to kids starting as young as 5 or 6.
The book is 52 pages long (formatted sort of like a comic book), and features general instructions, practice puzzles, and many puzzles to solve from beginning to much more advanced. You can purchase a book or a printable ebook.
I will admit that it took Amanda (age 9) and I a little while to get the hang of it. Each puzzle features clues about which squares should be filled in. For example, in the puzzle below the numbers down the side signify the number of squares that should be filled in the row. The numbers directly above the columns show what should be filled in there. Where it gets tricky is the numbers that appear above those. The 1 in the first column means that after filling in two squares, you fill in one more square, but what makes it a puzzle is that you aren't directed specifically where to put it. The end result is a picture, so you have to make guesses on where it will fit to complete the picture.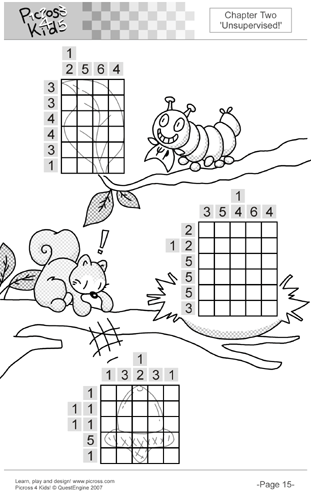 Does this sound like something you and your kids would enjoy solving together? This site has some samples and a full description if you'd like to buy it now or find out more.
This contest is open to everyone, in all geographic regions! We will award one print copy (to ship to U.S. or Canada only) and three downloadable and printable ebooks.
Leave a comment if you'd like to win. We'll post the winners on March 9.