This post may contain affiliate links. Read my disclosure policy here.
When David Shannon was a boy, he drew a picture book with the words "No" and "David" and illustrations of David getting into trouble. Years later that picture book became No, David!, and the newest in the series has arrived just in time for the holidays. It's Christmas, David! follows David as he tries to stay out of trouble while awaiting Santa's arrival. David also fears getting a lump of coal when his attempts to be good aren't always successful.
The David books are fun for both kids and the parents who are reading them. My boys can relate to David as he plays with the ornaments that look so much like toys, gets impatient waiting to see Santa and then is told to hurry up when he finally gets his turn, and is constantly reprimanded for manners during dinner. As a parent it's a relief to see reflections of my own constant scolding. As always with the David books by the end of the story he is reminded he is loved and isn't that what being a parent is all about?
In Captain Sky Blue by Richard Egielski, Jack meets his new best toy pal, Captain Sky Blue, on Christmas morning. Sky is a pilot who speaks only in pilot talk. Fortunately there's a glossary of pilot talk at the beginning of the book and while I was familiar with a few of the terms, most of them I had to refer back to the glossary. Sky plays a joke on Jack and steals his hat, only to be separated from him during a thunderstorm. Sky encounters a blue whale and then is left to wander the ocean floor, until he finally comes upon a way home.
Captain Sky Blue is perfect for the child who loves all things airplane. Just don't be surprised if your child starts answering "Roger" and expects you to tell him "Bravo Zulu" when he does a good job.
Scholastic is providing not only It's Christmas, David and Captain Sky Blue, but 4 other books to one lucky winner! The other books are: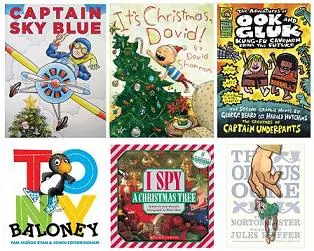 Leave a comment here to enter to win all 6 books (U.S. shipping addresses only).
This is a part of the 5 Minutes for Books 2010 Gift Guide and Giveaway event. All winners will be announced over at 5 Minutes for Books on December 5.
Click through to enter ALL of the giveaways (new giveaways added through December 1), including one for another great Scholastic giveaway: a Star Wars book set.
The winner of Tuck Me In is #28 Nicole.
5 Minutes for Books reviewer Nancy admits that her favorite part of the David books is when he runs down the street naked. She writes about her 2 boys and life in Colorado at Life With My Boys.