This post may contain affiliate links. Read my disclosure policy here.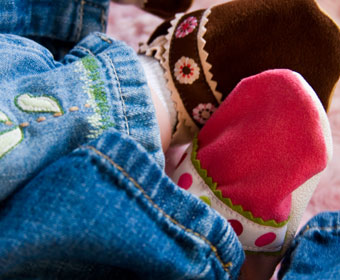 Moms, Libby and Laura, had some innovative ideas of how to improve soft-soled shoes to better meet the needs of their babies. And so that is exactly what they did.
The result is a fabulous creation – IsaBooties!
Tired of looking at the same shoe designs and positive there was room for much improvement, we decided it was time to take action! We started researching fabric, design and style options. Our list of requirements grew. The shoes had to be soft and comfy on our little ones' feet. They had to be easy for us to put on, but hard for our kids to pull off. We wanted them machine-washable and machine-dryable. They had to be breathable, durable, skid-proof, and fade-resistant. Oh, and last but certainly not least…they had to be hip and stylish! We made a few pairs of shoes for our own kids.

We mixed bright, funky colors with unique ribbon accents. Soon, our friends wanted them. Then, their friends asked for them, and so on. Before we knew it, IsaBooties™ were born!
When we received our samples, I was surprised by how different the fabrics are from other soft-soled shoes.
IsaBooties™ are made from soft, yet durable Ultrasuede® and Toughtek®. The Ultrasuede® is highly breathable and the Toughtek® soles are perfect for gripping.
They are incredibly slip-resistant and give great stability – just what little feet need when they are learning how to walk. (Toughtek® is actually the same fabric used in the booties worn by search and rescue dogs!) But even though the soles are extremely sturdy, they are also super soft and flexible. In IsaBooties™, your little ones will be as close to barefoot as possible.
I also love that IsaBooties™ are available in a warm winter version called Cozy Toesies. These snuggly shoes are lined on the sole and around the ankle with extra-thick, super-soft Polar fleece. They come in pink and brown. What cozy little creations!
All the shoe designs are funky and fabulous. They have fun styles for both boys and girls.
If you are looking for shoes for your baby – or for a perfect baby gift – definitely check out IsaBooties™. We highly recommend them. Any new mom would love to receive IsaBooties™ for her baby's sweet little toes.

And, of course, we are giving some IsaBooties™ away too. We will have two winners who each will get to choose the size and style they prefer. If you want to be one of them, leave a comment at this post. We will announce the winners March 8th.
This contest is open to both US and Canadian shipping addresses.