This post may contain affiliate links. Read my disclosure policy here.

Just about everyone has an MP3 player these days, and we know that we love to play it loudly. Sadly, many of us are causing permanent damage to our hearing.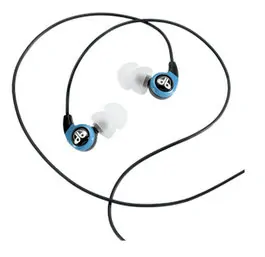 Sound pressure, the strength of the sound wave vibrating our eardrum, is measured in decibels (dB). High-pressure sound waves (e.g. loud music) can cause permanent hearing loss, a ringing in the ears that does not go away, or even deafness.

This can happen to listeners at any age, and some audiologists believe that many young people are already experiencing hearing loss due to increased exposure to high sound pressure levels.

According to a recent article in the Journal of the American Medical Association, one in five teenagers today is already experiencing significant hearing loss.

dB Logic's mission is to provide consumers – teenagers, adults and children – with the ultimate personal audio experience with less risk of long-term damage to their hearing. All dB Logic headphones and earphones use SPL2 technology. SPL2 technology places a tiny monitoring circuit between the MP3 player and the ear piece that regulates the volume where needed, while still providing great stereo sound. Delivering superior audio at healthier listening levels, dB Logic's products help users of all ages avoid hearing damage due to long-term exposure to high sound pressure levels.
I received a pair of dB Logic earphones to review and at first I was turned off by the enclosed silicone tips. I have been an ear bud user for many years. But as soon as I put the earphones on and began playing my favorite tunes, I was blown away by the absence of outside noise.
The tips provide a better seal, decreasing the amount of ambient noise by as much as 26 decibels. I no longer have to blast the music, as I have been so accustomed to, especially while listening to my MP3 player on a plane.

Show your loved ones that you care about their ears and add dB Logic earphones or headphones to your Christmas shopping list.
Of course we have a pair of dB Logic Earphones, retail value $29.99, to give away to one lucky reader. Simply leave a comment below to enter.
This giveaway is part of our Christmas Giveaway 2010 event. If you haven't already, please be sure to visit our main Christmas Giveaway 2010 post to review our giveaway rules and to find out how to earn additional entries.
This giveaway is open to US shipping addresses and closes on December 4th. Please see our site's terms and conditions for our complete contest rules.
Thank you to dB Logic for providing a pair of earphones for review, as well as an additional pair for giveaway purposes.