This post may contain affiliate links. Read my disclosure policy here.
The Holidays brought to us by eBay
I arrived in San Jose exhausted.
I had just flown in from LA and so I had already been away from home for a few days. I was stressed and tired right into my bones.
But when I opened my hotel room door, I dropped my bags and just stood, taking in the perfect hotel room, (the Hotel Valencia on Santana Row is simply fabulous,) breathing gratitude prayers.
I just knew that the next three days would be the refreshment and inspiration I needed.
And I was right.
In fact, I had a holiday season — laughing till I cried, bonding with treasured friends, receiving gifts, and feeling so much gratitude — all those warm, end-the-year-in-joy moments eBay wants to bring to their dedicated shoppers this season!
eBay Invests their Holiday Ad Budget in Social Media
I think what made the whole experience so special for all of us mom bloggers was the common love and appreciation for social media. As Rachael from Today's Mama said, we were in "Geek Heaven."
Not only were we among our blogging kindred, and every one of us bloggers knows the relief it is to be with those who understand our bloggy lives. But we were at eBay, the world's largest online marketplace who has decided to invest their holiday advertising campaign budget, (according to the NY Times it is between 15-18 million!) on SOCIAL MEDIA!
YES — this company knows and respects the power of social media. They understand that the committed eBay shopper is Internet savvy and is communicating with their friends via social networking!
I love companies that are brave enough to look forward and trust the power of social media. It makes me want to support them even more!
BUT of course — they need something worth talking about!!!
And BOY does eBay DELIVER this holiday season.
People — they have SAMANTHA BEE!!!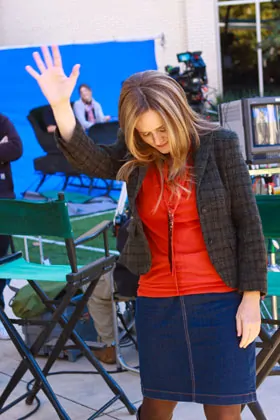 Samantha Bee is the hysterical mock journalist from The Daily Show with Jon Stewart. She is a riot — always my favorite part of the show.
Samantha Bee stars in eBay's holiday campaign of webisodes inspired by the Christmas morning freakout videos on YouTube.
Samantha's tongue-in-cheek humor is a perfect match for this campaign. The videos make you laugh out loud, even as they make you cry.
Make sure you head over to eBay's Love to Give site to view all of Samantha Bee's Unwrap Attack videos. The videos are all worth watching and passing on.
And you can also have some Facebook fun with a virtual Unwrap Attack App. I made Jenny Ingram bounce off the walls in red pyjamas after receiving a laptop from me. (Okay I didn't really give her a laptop — I just wanted to see her bounce around as if I DID!)
Not only did we get to visit Samantha on set of an upcoming webisode, we each got to play along with Samantha for a shout out video for our own sites! (Yes, I will post that as soon as I get it!)
Here is a shot of Amy from Mom Spark sharing the blue screen with the fabulous Ms. Bee: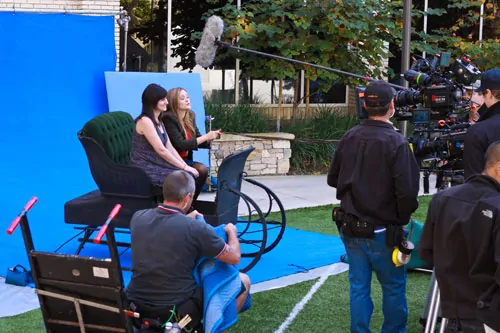 And "Love to Give" has More!
An Unwrap Attack for YOU!
This post couldn't be complete without some "Love to Give" for YOU!!!

We have a $100 gift certificate from eBay for one of YOU to have your OWN Unwrap Attack!
Just leave a comment and let us know what is on either your Wish List or what you would love to give to someone on your list!
It is all about People!!!
It was an incredible three days at eBay. As you can tell, we had TONS to learn about and TONS of fun to have with Ms. Samantha Bee.
And of course it was made all the more special being with my dear blogging kindred, Gabrielle from Design Mom, Rachael from Today's Mama, Louise from Mom Start, Naomi from superdumb supervillian, Amy from Mom Spark, Kat from Blissfully Domestic, Sheila from Clever Girls Collective, Eileen from SheFinds, and Jenny from Jenny on the Spot.
And a very big thanks to the incredible team at Mekanism. This crew ROCKED it! We were all blown away by the innovation and professionalism of Mekanism! I can't wait to work with them again and again!
Thanks to Gabrielle Blair from Design Mom for the eBay sign and the group photos — you can see all her shots at Flickr.
This giveaway is open to US residents only and will close on Friday, December 3rd. We will announce our winner on Saturday, December 4th. This giveaway is void where prohibited. Please see our site's terms and conditions for more information.
Written by Janice Croze, co-founder of 5 Minutes for Mom. Talk with me: @5minutesformom and Facebook.com/5minutesformom.
Disclosure: In accordance to the FTC Guidelines and WOMMA Code of Ethics, I am disclosing that my time, travel and accommodations have been compensated by eBay for my participation in the Love to Give campaign. Although I have a material connection to eBay, any publicly stated opinions of eBay remain my own.