This post may contain affiliate links. Read my disclosure policy here.

I remember the Christmas that I bought our Wii. It was a surprise gift for my husband but it was also a very popular gift that year. Of course, not really planning ahead, I found myself standing in long lines, in the cold, in the wee hours of the morning, hoping to get my hands on one. Fortunately enough I did manage to find a Wii that Christmas and now, a few years (and kids) later, that Wii has now been taken over by my kids!
Couple that with my girls' enthusiasm for all things singing and dancing and you have some very crazy Family Fun nights with the new Disney Sing It: Party Hits for Wii!!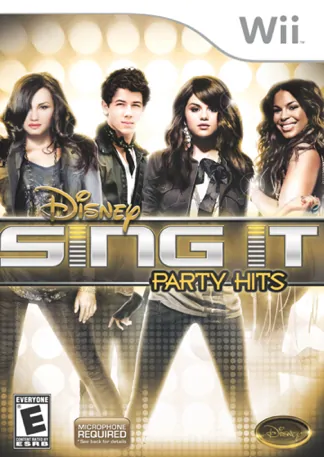 To start the karaoke fun all we had to do was plug in the USB microphone, insert the game disc, and follow the onscreen instructions to make sure we were getting the best sound out of our system. All pretty simple!
With the game loaded, the party begins! You can choose to sing solo, partner with a friend in duets, or compete in the new competitive mode. While my girls just love the fact that they get to sing to some of their favorite songs, Disney Sing It: Party Hits can become quite the competition as two groups can go head to head in the Sing Off mode (either as solos or as an ensemble), with the highest scoring group being named the winner!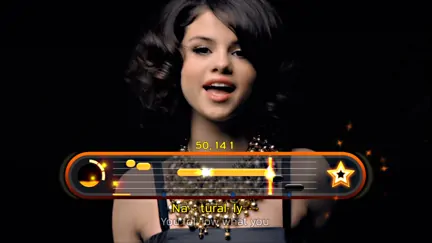 The Performance mode allows both beginners and experts to hone their singing skills with or without the use of lyrics and a pitch bar. Disney Sing It: Party Hits also features a Karaoke mode (great for parties and sleep overs) and Demi Lovato as the in-game vocal coach! My husband would say that I could probably use a little more practice with the vocal coach!
Disney Sing It: Party Hits features 30 songs from some today's hottest artists including Black Eyed Peas ("Boom Boom Pow"), Demi Lovato ("Here We Go Again"), Jordin Sparks ("Battlefield"), Jonas Brothers ("Fly With Me"), Kelly Clarkson ("Already Gone"), Justin Bieber ("One Less Lonely Girl"), and Salena Gomez ("Magic")…to name a few. My girls were so excited to see one of their favorite songs, "Fireflies" by Owl City, on the game as well!!!
Your kids will also love that when they are singing along with their favorite stars, they are actually singing along with their favorite stars! Instead of using some general color or design background, the game actually plays the music video for that particular song!
Disney Sing It: Party Hits is available both on the Wii and PlayStation 3 systems for $39.99 as a standalone game or bundled with a Logitech® microphone for $49.99. Additional songs will also be available to download for the PlayStation 3 system for $1.99 each or in three song packs for $5.50.
With a rating of E for Everyone, Disney Sing It: Party Hits is a great gift for the kids of all ages on your holiday shopping list this year! It will definitely keep your kids entertained and busy throughout their Christmas break!
You can win your very own Disney Sing It: Party Hits here at 5 Minutes for Mom by simply leaving us a comment below. One lucky reader will win Disney Sing It: Party Hits bundled with a Logitech® microphone ($49.99). Let us know in the comments below if you'd like the Wii game or the PlayStation 3 game.
This giveaway is part of our Christmas Giveaway 2010 event. If you haven't already, please be sure to visit our main Christmas Giveaway 2010 post to review our giveaway rules and to find out how to earn additional entries.
This giveaway is open to US shipping addresses and closes on December 4th. Please see our site's terms and conditions for our complete contest rules.
Disney Interactive Studios provided my family with a copy of this game for the Wii, allowing me the chance to personally review the game for this post. All opinions stated here are my own. They are also providing our winner with the prizing for this giveaway.