This post may contain affiliate links. Read my disclosure policy here.
Memoir is a fairly new genre for me. If you've never read it, but you enjoy character-driven novels, you might enjoy reading "creative nonfiction" as it's called. This week I'm reviewing (and giving away five copies) of a memoir called Trail of Crumbs.
A place and its people are often linked to its food. What I miss most about my Texas roots is the Tex-Mex and the barbecue.I long for the spicy Thai food so abundant in the Pacific Northwest that I enjoyed when we lived there. In my New England home, pizza has transcended the frozen disk or a chain delivery standard to which I had become accustomed.
In Trail of Crumbs: Hunger, Love and the Search for Home (January 2008, Grand Central Publishing) food writer Kim Sunee's self-discovery simmers as she embraces different cultures and cuisine. Her story begins as an abandoned child in an orphanage in Korea, takes her to her adoptive family's home in New Orleans.
As a child living in New Orleans, she struggled to fit in with her white classmates, but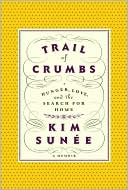 found comfort in the kitchen at her grandfather's side as he stirred up red beans and rice, jambalaya and other Cajun specialties. As a student, she lived in Paris and Sweden and quickly picked up the language and cuisine of those countries as well, using the food as a means of finding her way in the culture.
Falling in love with the founder of L'Occitane, Olivier Baussan, brings her to his home in Provence, where she should be happy, yet slips deeper into self-doubt. She is unsure of her ability to live up to the role of step-mother, hostess and lady of the house. Although the story is compelling and her experiences are interesting, I began to feel that as an author, she felt detached from her own life story. Then it hit me that, whether intentional or not, this is an incredible literary device and does serve to advance the plot of her "search for home."
"I want to know everything about you. No secrets between us, okay?"

I nod, knowing this is impossible. How can he know everything about me, when I don't even know myself?
Food is a supporting character throughout this novel, so as I read I found myself wanting to nosh–not on popcorn and Oreos, but to graze on soft cheeses and fresh seasonal fruit. Since none of those things are in my American cabinet, I was safe. However, each chapter ends with a few recipes that you can try on your own if you wish.
Because these types of stories are of a person's real-life journey, there is no simple wrapped-up ending. One of the marks of a good memoir is that it leaves me wanting more. If I passed Kim Sunee on the street, I'd want to look her in the eye and see that she's okay–that she's happy and whole.  I have a feeling that she might be.
To enter to win one of five giveaway copies, please leave a comment. If you'd like, tell me if you are new to memoir or the title of one that you've enjoyed.