This post may contain affiliate links. Read my disclosure policy here.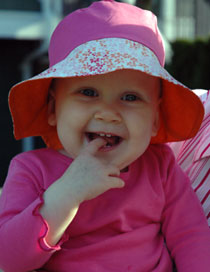 Here at "5 Minutes for Mom", we promise to bring you the best – and Cabana Life definitely qualifies as some of the best!

Cabana Life, founded by skin cancer (Melanoma) survivor Melissa Marks Papock, is fashion with a mission.

Cabana Life's vision is:

"To expand awareness and prevent the proliferation of skin cancer in the future through fashion and education."

Here's just a few of the many facts we learned:
The average T-shirt has only an SPF of 5
In the past 20 years there has been more that 100% increase in the cases of pediatric melanoma
Regular sun protection throughout childhood can reduce the risk of skin cancer by 80%
But did we mention that Melissa is a "fashionista" with an impressive background working as a merchandising expert for top fashion magazines like Vogue, Vanity Fair, Seventeen and O, The Oprah Magazine? This girl knows what looks good! So the Cabana Life line is some of the hippest, stylish kids' clothing you can find – all made with lightweight 100% cotton fabrics that are specially designed to have 50+ UV protection.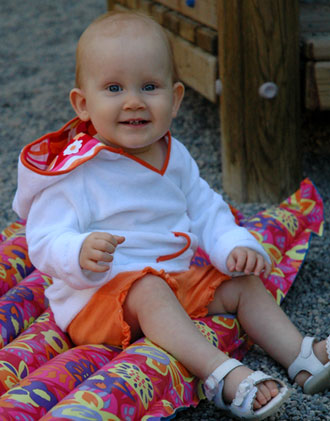 We are so in love with these clothes, we are buying up almost their entire line for Julia and Jackson!
You can see Julia showing off some of her new sun protective clothes. My personal favorite is the Terry Cover-Up she's wearing in the photo above. She loves this comfy cover-up so much, I've ordered her a second larger one for next year. (By the way, order a couple of sizes up for the Terry Cover-Up and the t-shirts. Julia is wearing a 2T here and she's a small 15 month old toddler.)
But, guess what? This is so great – get ready…
Cabana Life is offering you, "5 Minutes for Mom" readers, the chance to shop from their entire spring/summer line at 50% off the regular price.
Right now they're having a huge summer sale with all their products at 30% off and we have arranged an additional 20% off for our readers. How cool is that? Just use the coupon code "besafe" during checkout. But make sure when you shop you make all your purchases at once, since the code is only good for one time through the check out.
We've included Cabana Life in our Special Discounts section, so you can check back there if you need to refresh your memory about the "besafe" coupon code.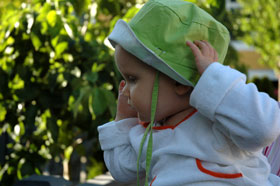 I don't know about you – but I am all about making the most of great sales and shopping for not only the present season, but seasons to come.
So go get stocked up on some incredible clothes at a ridiculously good price and feel even better knowing that your kids are in the safest, not to mention cutest, clothes out there.
Don't waste a second – hop over right now – and use the coupon code "besafe" to shop at 50% off.
Cabana Life's children's clothing line only goes to size 7. Hopefully in the near future their line will expand and include sizes for older children.