This post may contain affiliate links. Read my disclosure policy here.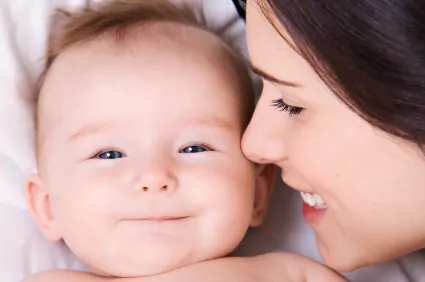 Having time in the Word, is a wonderful thing. When you are a new mom, whether it's your first child or your fifth, finding that time in between feedings, bouts of crying and everything else on the never ending to-do list, can be difficult.
To help new mothers maintain their relationship with God, Zondervan released the New Mom's Prayer Bible, which includes 52, one-minute Thought-Starters that invite new moms to "dip" into God's Word for a moment of spiritual refreshment.

Each Thought-Starter in the New Mom's Prayer Bible is followed by an option for a five-minute prayer or a 10-minute study to help mothers learn even more about what God's Word has to say for that specific day.

"Not only does the New Mom's Prayer Bible deal with a woman's spiritual relationship with God, it provides a little extra help with handling new situations, such as coping with sleep deprivation and marital adjustments.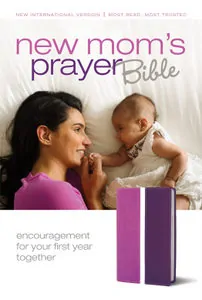 I was sent a New Mom's Prayer Bible to review. I loved it from the moment I took it out of the box. It is dark orchid and deep plum. I love those colors. So that right there put a huge smile on my face.
Now keep in mind, I am not a mom to a newborn, but I do have a 2-year-old, 4-year-old and 6-year-old. I still get woken up numerous times in the middle of the night, am always tired and have a pile of laundry that never ends. So, although there isn't a little baby in my arms, I still feel like this Bible will work for me as well.
I chose to do both the 5 Minute prayer and the 10 minute study. The Thought starter I opened up to was titled "Number My Days" and focused on Psalm 90:12 "Teach us to number our days aright, that we may gain a heart of wisdom."
The New Mom's Prayer Bible includes 52 Thought Starters that are on colored pages throughout the Bible. It is suggested to attempt one Thought Starter per week. Each Thought Starter includes a 5 Minute prayer and a 10 Minute study as well as a Word To Take With You Today (a word to focus on throughout the week).
I know for a fact that there is a reason why the Thought Starter I just happened to open the New Mom's Prayer Bible to was one that reminded me to enjoy my life as a gift. It is so easy for us to sometimes wish our time away. I often tell people that I can't wait until my children are a bit more independent.
But I was reminded this morning that time does go fast and these moments that I am given today may just be the sweetest of my life.
Oh, and the Word To Take With You Today, as a part of the Number My Days Thought Starter, was SAVOR. I love that. What a great word to focus on throughout the week. Yes, I do need to do a bit more savoring!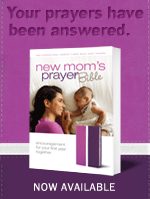 Is there a new mom in your life? Are you a mom in need of a little more time in the Word? Have you been searching for a study Bible? The Zondervan New Mom's Prayer Bible may just be the one for you or the new mom in your life.
The New Mom's Prayer Bible features the trusted NIV translation and is available in Zondervan's popular Italian Duo-Tone binding for $27.99.
We have FOUR copies of the New Mom's Prayer Bible to give away. To enter please leave a comment below. I would also love to hear whether your winning copy would be a gift for a friend or loved one, or whether it would be a new treasure in your life.
This giveaway is open to US shipping addresses only and is void where prohibited. Please see our site's Terms and Conditions of Use for more information. This giveaway will close on Friday, October 15th and our winners will be announced on Saturday, October 16th.
*This giveaway is part of a paid campaign with Zondervan.