This post may contain affiliate links. Read my disclosure policy here.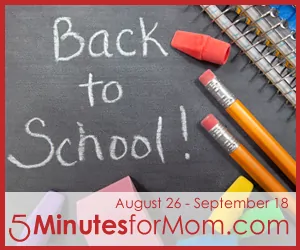 Sometimes we all just need a bit more time. I don't know about you, but I feel like summer ended with a halt. At one moment, everything was slow and easy, and then instantly, it was full speed ahead.
Last week was definitely one of those crazy weeks for me. It was my daughter's second week of school, I had two sick boys and Janice was on vacation. There was so much to do, at home and here at 5 Minutes for Mom, and so little time.
In the madness and rush of the week, several Back To School giveaways did not get posted. So, we are going to give YOU the gift of time. Yes, we are extending our Back To School Giveaway. You now have more time to enter our current giveaways, and even more chances to win, since we have several more giveaways to post.
Our current Back To School giveaways are listed below. Be sure to check back, as we will add links to the new giveaway posts as soon as they are published.
You now have until September 18th to enter all of our back to school giveaways. We will announce our winners on September 19th.
So enjoy the gift of time. I think we just put time in its place. It kind of feels good.
Back To School Giveaways