This post may contain affiliate links. Read my disclosure policy here.
When Janice and Susan asked me if I liked country music, I quickly said, "Yes." I have listened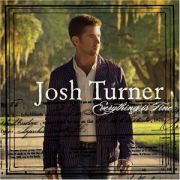 to country music for as long as some of you have been alive. Even though most of what I listen to these days is dictated by my kids' tastes, I loved taking the opportunity to listen to something new. My husband (who is more often alone in his car and can listen to what he chooses) said, "I think that Josh Turner is that deep gravelly singer guy." As soon as we popped in the CD, I saw that he was right. If I wasn't in mixed company, I would have described his deep bass voice as something other than gravelly, but I'll let his description stand.
Josh Turner is a 2007 CMA Male Vocalist of the Year nominee. Everything is Fine released earlier this week and is the perfect blend of that classic country sound (in "Firecracker") with a soulful side on "Another Try," a ballad with Tricia Yearwood.
Five (5) Winners will receive a Josh Turner PRIZE PACK:
* Copy of EVERYTHING IS FINE on CD
* T-Shirt
* Magnet picture frame
* Set of 4 coasters
So, leave a comment, and we'll draw five winners on November 20.