This post may contain affiliate links. Read my disclosure policy here.
My boys may only be two and four years of age, but they are already such adorable brothers and the best of friends. Yes, they fight like crazy, but they also share such tender, loving moments. Last night I heard a sound coming from the boys' room. I had sent them to bed 45 minutes earlier, so I was not pleased when I realized that they were both still awake. When I crept into the hallway and peeked into their room however, my heart melted into a million pieces. There was my oldest, rubbing his younger brother's back, while singing the sweetest lullaby. It was precious.
It is that love of brothers, that drew me to the movie, Charlie St. Cloud.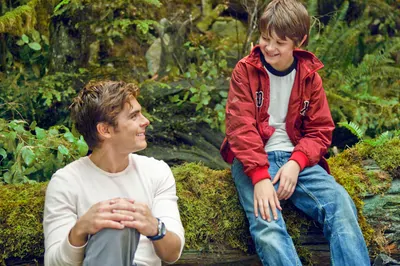 When I first saw a trailer for the film, I had an instant lump in my throat. I even got a bit teary-eyed. I knew that Charlie St. Cloud was going to be one of those movies that would stick with me. Boy was I right!
Last weekend I had the true privilege of attending a media Junket for Charlie St. Cloud which was held at the beautiful Ritz Carlton in Marina del Rey, California. I, along with several other bloggers/editors, enjoyed a screening of Charlie St. Cloud. I am pretty sure that we all cried. I absolutely LOVED the film and plan on seeing it again this Friday, July 30th, when it opens in theaters.
Charlie St. Cloud is about the unbreakable bond between brothers. It is about love, life and death. It is about moving on from the past, having hope and pursuing your dreams. It is a movie that will tug at your heart and make you hold your loved ones just a little tighter.
If you attend the movie with your older children, it will serve as a great platform for family discussions. I suggest dinner or ice cream after the movie, so that you and your children can talk a bit about the movie. You might be surprised with what they have to say about it.
Having the opportunity to privately preview the film, while staying at the Ritz, was already incredible in my book. But the weekend wasn't over yet. The next day, we had an experience of a lifetime, as we met and interviewed talent from the film.
Yes, as part of the mommy blogger roundtable, I sat just inches away from the handsome Zac Efron and his incredibly talented co-star, Charlie Tahan. I also interviewed Amanda Crew who plays Tess, Zac's love interest in the film. Finally, I had great conversation with the director, Burr Steers as well as author, Ben Sherwood, who served as a producer on the film and also wrote the book that the movie is based off of, The Death and Life of Charlie St. Cloud.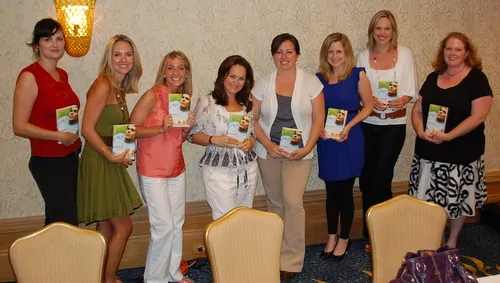 The Mommy Blogger Roundtable group shot
It was a whirlwind, star-studded weekend.
Throughout the week, I will share with you several interviews and plenty of fun pictures. If you have a tween/teen at home, you will want to stay tuned, because I have tons to share with you about the film's star, Zac Efron.
I hope that you all take the time to catch Charlie St. Cloud in theaters. The film has a truly amazing cast and a moving story that will hold you captive until the very last line.
Disclosure: Universal Pictures paid my transportation and room costs for a Mom Blogger Press junket. They gave us access to the talent behind the movie, but did not tell me what to say. My opinions are all my own.