This post may contain affiliate links. Read my disclosure policy here.
Happy Canada Day!!!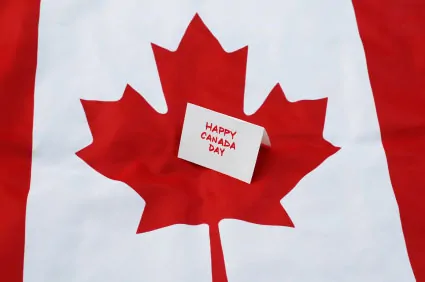 Sometimes it is rough being a Canadian.
We don't get to enter all the fabulous bloggy contests. We can't buy Hebrew National hot dogs, or Reddi-Wip, or Cascadian Farm. (Feel free to leave in the comments all the things you wish you could buy up here in Canada!) And shipping to Canada from the US costs a fortune.
But, sometimes it ROCKS being Canadian!
We have free health care. We are darn nice people! (Not to say that non-Canadians aren't nice. I am just saying we are some darn nice people up here!) And we have Smarties.
So, to all my Canadian brothers and sisters, I am sorry that you can't enter all our contests. (I know your pain.) I am sorry that I tell you about fabulous products you have to drive across the border to buy. (I seriously make regular border crossings to stock up on all the products I am now addicted to!) And I am sorry that shipping to our country is a pain in the you-know-what. (I know that isn't my fault, but I am still really sorry!)
I hope you have a wonderful Canada Day. And in case you burn yourself on your barbeque or have some other July 1st induced injury, remember to sing the National Anthem while you sit (waiting) in the clinic, rejoicing that your visit is FREE! (Ya, I know we pay for it in our taxes — but we still have it!)
AND if you have a Canada Day post, (whether you are Canadian or not!) please link up here and share the Canadian LOVE!
Oh — and if you ARE Canadian, make sure you let us know in the comments! Would love to see how many of our fellow Canadians are reading. (Well, I know I can look in Google Analytics, but it is fun to see you "raise your hand and say I am here!!!"
Updated to add: In the second linky below, I just met a Canadian blogger who also has a Canada Day link up/Blog Party going on. To find more Canadians, you can check out Canadian Mom Blogger. So fun to meet more friends in the momosphere!
Happy Canada Day!!!
Here is a fun thumbnail linky:
And here is a basic one — cause sometimes you just want it that way!