This post may contain affiliate links. Read my disclosure policy here.
Red mud covers their floors, their furniture, their belongings, their memories. The water that destroyed their homes has receded and now they pick through the wreckage, throwing out so much of their lives that is now coated in mud.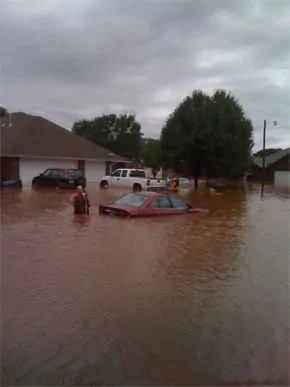 Melissa Garcia, aka Consumer Queen, had her home ravaged by the flooding in Oklahoma this past week. And her good friend Monica Brady instantly came to her bloggy side organizing relief operations from her blog Mommy Brain Reports.
Melissa is an incredible woman who lives a life of generosity and giving to others. Even in the midst of this disaster, her first reaction was to gather up her stockpiles that had made it through the flood and share with her neighbors in need.
In fact, Melissa writes, "This is not a tragedy. Just another way to show God's mercy and grace. He WILL take care of us!"
If you want to help in the relief, head over to Mommy Brain Reports. Monica has options for ad spot donation, financial donations, etc.
And finally, here is a slide show Melissa shared on her blog showing the flood waters and scenes from her home.

Written by Janice Croze, co-founder of 5 Minutes for Mom.