This post may contain affiliate links. Read my disclosure policy here.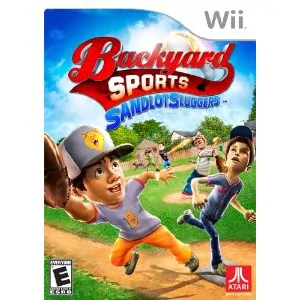 I received this new game to review on our Wii at just the right time. I was happy to introduce a new game, because the kids hadn't been playing too much Wii (we seem to be feast or famine around here — they either play too much or don't think of it as a way to entertain themselves at all).
I have a 6-year-old son who played his first year of Little League this year. He was familiar with the rules of the game from the baseball on Wii Sports. So I thought that he might enjoy some more virtual ball.
My daughter Amanda is almost 12, and not necessarily interested in baseball, but she was willing to play Backyard Sports: Sandlot Sluggers with her brother. They figured out how to get the game going easily, and in fact, one positive trait of the game that they both mentioned is that it's easy to figure out how to move. In other words, it's intuitive, which as an old person trying to play some Wii games, I do not often find.
As soon as they started playing, I heard laughing. Major laughing. Well that's good, right? Must mean it's fun. I think that what they really liked is that you were allowed to steal, which is fun, and apparently humorous.
There are several options for play. If you are playing with someone, you can set the length of game you play, by setting the number of innings.
There's a "story mode," which Kyle likes because when you win, it gives you the ability to pick some of the winning players. Amanda didn't like it as much, because "it takes a long time," because you only play full games. However, as a parent (who would be spending the bucks to buy it if I didn't have a review copy), I like the fact that my son will be on the story mode for a while — that he can't just bust through it by playing shorter games and then be done with the game.
There are also some mini-games which my 11-year-old found to be too easy, but my 6-year-old likes.
All in all, we can recommend this game, and even better, we have one to give away to TWO of you (U.S. residents only). Leave a comment if you are interested, and we'll announce the winners on July 10.