This post may contain affiliate links. Read my disclosure policy here.
I am not an organized person. I really, really wish I were. It would make life so much easier. I envy people who have daily planners and actually manage to use them. I, however, always seem to have the best of intentions but little follow through.
I was blessed with the ability to remember. Growing up, I never really needed to plan ahead because I could somehow always remember what I needed to do without having it written down. But alas, I now have three children. And with the birth of each one, my ability to remember minute details seem to die just a little bit. Add to that the daily mayhem of keeping up with them and I now find myself many days struggling to remember whether or not I brushed my teeth that morning. So I am making a concerted effort to at least attempt to be more organized.
And Mead and OrganizHer have stepped up to help me out. I recevied in the mail a box filled with all manner of goodies to make sure I do not forget another birthday (my nephew's is next week – he'll be 10 and this will be the first time he's ever received a card from me – that is, if I remember to put it in the mail) or school function. Or to pick up my child from school…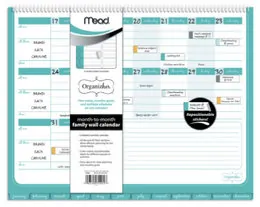 I have a large calendar that I've already filled in and hung on the wall. There is also a monthly calendar for the refridgerator in case I forget to look at the wall calendar (highly likely). I even got a weekly calendar that I plan to put on my nightstand so I can keep my work schedule in order thus hopefully eliminating the need to stay up until the wee hours of the night because I have a deadline that I forgot about.
The thing I love about these calendars is that they offer enough space for me to keep up with everyone in my family as well as plan out my meals ahead of time (another thing I never do) and even keep track of my expenses. And they're super cute to look at! I think OrganizHer may actually be able to accomplish what no man (or woman) has accomplished before…keeping me on track.
The new OrganizHer line from Mead was designed to offer functional, flexible, fashionable – and affordable – organizational solutions for today's modern household. There are more than a dozen new OrganizHer products that have just been released. All products feature a sleek decorative swirl design, and many are customizable with additional content available at Mead.com. From "spend" planning to meal planning, you can find a product that is sure to help you with the day to day challenge of managing your family.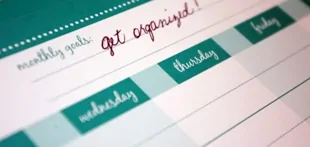 5 Minutes for Mom is teaming up with Mead and OrganizHer to offer one lucky reader 5 brand new OrganizHer products plus a $25.00 gift certificate to Target. From monthly expense management to meal planning, Mead and OrganizHer want to be your own personal secretary – only you don't have to pay them or offer benefits. You do, however, have to remember to write everything down.
To enter to win this fabulous organizational giveaway, simply leave us a comment telling us what you like to do to stay organized (or, what you wish you did to stay organized). We will pick one lucky winner randomly on Saturday, July 3rd.
This giveaway is open to US residents only and is void where prohibited. Please see our site's terms and conditions of use.
Many thanks to Mead and OrganizHer for sending me sample products for review and for supplying prizing for this giveaway.