This post may contain affiliate links. Read my disclosure policy here.
Okay ladies, I have a question for you, should the toilet paper roll go over or under?
My preference is over and if you are able to do a fun decorative fold, that makes it even better.
During the Cottonelle Great Debate, a roll poll was conducted to find out which was preferred, over or under, and over won by a landslide. 72% voted for over, while 28% voted for under. I have a sneaking suspicion that a large chunk of the under voters were males. What do you think?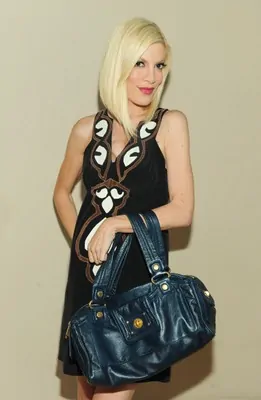 Tori Spelling and Dean McDermott joined Cottonelle's Great Debate and during a recent interview Tori shared that her "it" accessory for the spring/summer is her Marc By Marc Jacobs Satchel in "night".
Do you gals know how lucky you are? Seriously! Cottonelle would like to gift one of you with Tori's favorite "it" accessory. Yes, we have one Marc By Marc Jacobs Satchel in "night" to give away, retail value $398.00. It will also be filled with 10 coupons – each coupon is worth ONE (1) Double Roll 4-Pack of Cottonelle Toilet Paper.
MARC BY MARC JACOBS 'Totally Turnlock – Benny' Satchel
Signature turnlocks shine at the front and sides of a boxy, supple leather satchel fashioned with logo-print lining.
Top zip closure
Exterior turnlock pockets
Interior zip, wall and cell phone pockets
Leather

To enter simply leave a comment below telling us which you prefer: over or under. Let's see if our results are similar to those determined by the Cottonelle Great Debate.
This giveaway is open to US shipping addresses only and closes on Friday, May 14th. We will announce our winner on May 15th. (I may try to become the winner's best friend so that I can borrow the purse.)
Please see our site's Terms and Conditions of Use for a complete list of our contest and giveaway rules.

We were not compensated for this post. Cottonelle is providing our winner with the MARC By MARC JACOBS Satchel and Cottonelle coupons.