This post may contain affiliate links. Read my disclosure policy here.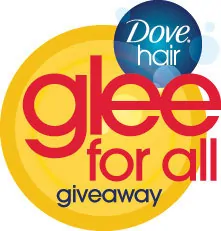 Join 5 Minutes for Mom, Dove & Rocket XL next Wednesday during the Dove Hair Glee for All Twitter Party to celebrate the relaunch of the brand's Hair Care line and the partnership with FOX's Glee!
The party is happening on May 5th, 7-8:30pm Eastern, the day after the airing of Glee's May 4th episode "Bad Reputation," and we'll talk about the show, beautiful hair and the favorite things that damage our hair but we don't want to give up!
There will be great Dove and Glee prizes with a grand prize of a pair of tickets to the sold-out Glee Tour during the Party! (Scroll down to bottom of post to see a list of the tour dates. Dove will cover travel costs to the city closest to the winner.)
Party attendees will even have the chance to tweet questions to get answered by Lea Michele (@msleamichele) herself! Although Lea Michele will be busy rehearsing for the Tour during the party, she will be answering questions from her Twitter page the week after the party! (And we will post all her answers here at 5 Minutes for Mom to make sure you don't miss them!)
The new, reinvented Dove Hair Care line is for women who want beautiful hair but don't want to damage it in the process. These women damage their hair every day doing their favorite things, such as styling, straightening, drying and curling. The good news is there's no need to stop doing these favorite things, because using Dove Hair Care (formulated with Micro Moisture serum and new Fiber Actives) will protect against and repair hair damage to give you beautifully smooth hair.
The cast of Glee undergoes hair damage each episode with performing under bright lights and constant restyling for shows. With Dove Hair Care, they can keep entertaining and doing their favorite things too!
We hope you'll join in the #dovegleeforall fun!
What: Dove Twitter Party
When: Wednesday, May 5th from 7:00-8:30PM EST
Why: To celebrate why beautiful hair makes Dove and Glee fans want to sing! Launch of new, reinvented Dove Hair Care with a chance to win sold out Glee Tour tickets, have questions answered by cast member Lea Michele and other great Dove Hair and Glee prizes.
Where: On Twitter, using the #dovegleeforall hashtag
Hosts: 5 Minutes for Mom, Dove & Rocket XL
Questions?: Contact Janice at info at 5minutesformom dot com
FAQs:
How do I join the conversation?
Easy! Just tweet using the hashtag #dovegleeforall. 5 Minutes for Mom, Dove & Rocket XL moderators will help guide the conversation with fun questions and giveaways.

Who are the moderators?
Janice & Susan (@5minutesformom) along with Dove (@Dove) and Rocket XL (@Rocket_XL) will be on hand to guide the discussion and chat with participants. Make sure you're following them before the party starts!
How do I follow the conversation?
Use the hashtag #dovegleeforall to follow along. To help keep up with the conversation, we suggest that you:
Enter #dovegleeforall in the Twitter search field box to the right of your stream or on your Twitter program (e.g. TweetDeck or Twirl)
Follow #dovegleeforall by keeping a browser window open
Using a Twitter aggregator such as www.twubs.com
Phoenix
May 15th — 7:30pm
May 16th — 11:30am
Los Angeles
May 20th — 8:00pm
May 21st — 8:00pm
May 22nd — 2:00pm
May 22nd — 8:00pm
Chicago
May 25th — 7:30pm
May 26th — 7:30pm

New York City
May 28th — 8:00pm
May 29th — 3:00pm
May 29th — 8:00pm
May 30th — 3:00pm
May 30th — 8:00pm
RSVP with your Twitter Handle Here:
To help you Gleeks find other Gleeks participating in the party, leave your Twitter Handle here. (You do not have to leave your handle to participate in the party.)
For more prizes and Dove Glee for All fun visit www.dovegleeforall.com.
To read about 5 Minutes for Mom's giveaway rules and regulations, see our terms and conditions.
Note: This party is part of Dove's partnership with Rocket XL and their Dove Glee for All campaign. Dove is the sponsor and is providing prizing. 5 Minutes for Mom is not being paid to participate in this campaign, but may receive some forms of compensation such as product or tour tickets.