This post may contain affiliate links. Read my disclosure policy here.

At 5 Minutes for Mom we love showcasing incredible mompreneurs. Erin Murphy, creator of Baby Lulu, is one of those awe-inspiring moms.
"Erin began sewing at the age of four, and making clothes for her niece and nephew at age ten. Her unique sense of style and keen eye for color were immediately apparent. She continued to hone her craft at Brooks Design School in Long Beach.

Unsatisfied with fabrics that didn't embody her vision, Erin took inspiration from vintage tablecloths and textiles and designed the fabrics that would become her signature, applying new, trend-savvy color palettes, and combining them in fresh ways. She then created patterns that emphasized proper fit and Baby Lulu was born.

Erin has been blessed with a daughter, Chloe and a son Everett; beautiful, dynamic children who keep Erin on her toes, not to mention providing constant inspiration and input for Baby Lulu designs."
I love Baby Lulu's designer baby clothes. All of the pieces are so dainty and beautiful. I also love the vintage feel and fun colors of the Baby Lulu collections. Many of the pieces can be worn with leggings, which is perfect for our lovely little ladies who also like to run and tumble.
When I first visited Baby Lulu, the Serendipity line caught my eye. Serendipity is one of my favorite words and the line is filled with gorgeous floral patterns in my favorite colors – fuchsia, baby pink and turquoise.
In the short video below, Erin Murphy introduces the Serendipity line and shows a few of the pieces, including one of my favorites, the Kaitlyn Dress.
I adore the Puff Flower line. My favorite pieces include the Bunting Bag with matching blanket and Forties 1 pc. swimsuit. I also love the coordinating knit roll hat.
The Abby dress in the Pearl Organic line is made from soft organic cotton jersey. It is darling. I had wanted to review it for my daughter, but she is a little too big for it. The Abby Dress is available in sizes 12 months – 4T.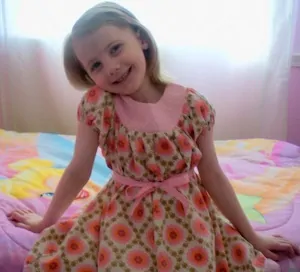 My daughter, Audrey, who wears a size 6, was thankfully still able to enjoy some Baby Lulu. Since I love the Serendipity line so much, I had Baby Lulu send the Christy Dress our way to review. Audrey's favorite thing about the Christy Dress is that it is perfect for twirling.
I have to tell you, when my daughter puts on her Christy Dress, her whole demeanor changes. She walks around the house all prim and proper, like a little lady. She then dances around the family room in perfect princess style, twirling about.
I have received many compliments on the Christy Dress. Many comment on the design of the fabric. When one neighbor asked if I had handmade her dress, I was very tempted to say, "why, yes I did."
If you haven't visited Baby Lulu before, you are in for a treat. To make it even more enjoyable, we have a $50.00 Gift Certificate to give away to one lucky reader.
To enter the giveaway, please head on over to Baby Lulu and tell us what you would purchase with your gift certifiacte.
For additional entries you can also sign up for their newsletter and become a fan of their Facebook Page.
For even more chances to win you can
Spread the word to your friends via your blog, twitter, etc.
**NEW** Start or Reply to any video conversation at Say It Face To Face. Then leave a comment with the link to the conversation on Say It Face To Face. Your video conversation or reply can be about ANY topic.
If you are already subscribed and are on our newsletter list, you qualify for those two additional entries. Go ahead and leave your additional comments below.
This giveaway closes on March 26th, is open to US residents and is void where prohibited. Please see our site's terms and conditions of use.

Our winner will be announced on Saturday, March 27th.
*I received the Christy Dress for review purposes. Baby Lulu is also providing our winner with a $50.00 gift certificate to BabyLulu.com.