This post may contain affiliate links. Read my disclosure policy here.
Certainly I am not the only person who was fascinated by Helen Keller when I was in school, was I? When I say fascinated, I mean that I not only read every book about her and her teacher Annie Sullivan that I could find, but that also extended to me reading other books about girls who were blind. I even taught myself the finger alphabet from the appendix of one of the books I read.
If you want to re-experience Helen Keller or introduce her to your own daughter, check out my companion post over at 5 Minutes for Books comparing the Miracle Worker play to the middle grade fiction novel Miss Spitfire.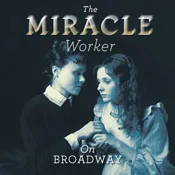 When I heard that The Miracle Worker was returning to Broadway and was offered complimentary seats to the show so that I could review it and offer a giveaway, I trembled with excitement.
When I checked out the cast, I was even more excited. This small ensemble includes Academy-award nominee Abigal Breslin as Helen Keller; Jennifer Morrison (House, M.D.) as Kate Keller; Matthew Modine as Captain Keller; the fabulously experienced Elizabeth Franz as Aunt Ev; and Tony-nominee and screen actress Alison Pill, whose depiction of the Miracle Worker Annie Sullivan is something that you must experience.

Jennifer Morrison
My Amanda with Abigal Breslin
Another thing that factored strongly into my love of this production is the setting. It is showing at the Circle in the Square theater in Times Square. I've never seen theater in the round, and if you haven't, I can strongly recommend it. There are no bad seats in this theater, and the fact that the stage is in the middle of the theater with no curtain to hide behind puts a high burden on the actors to really come through.
This show exceeded my expectations in every way, and even surprised me. Yes, I was familiar with Helen Keller and Annie Sullivan's story, and it's always inspired me. But perhaps seeing the story through the eyes of a mom is what produced this unexpected connection. The power to connect with a child and unlock language is something that we are privileged to experience every day and through every stage of our children's lives.
But the biggest surprise for me was the laughs. Yes, this serious dramatic play had more than one line that resulted in laughter throughout the theater, which made the whole experience richer.
Great acting, a fantastic setting, a great play about an inspiring story — This revival of The Miracle Worker on Broadway has it all.
If you are able to get into New York City to see this show, please do. I took my 6th-grader Amanda with me, and she loved it too. I wasn't sure how she would like a 2 hour dramatic play, but she did. It's not for young children, but I'm glad to pass along Amanda's endorsement as well.
Even better? We have a set of four tickets to give away to TWO lucky readers!
It is open to anyone, but you have to be able to get to New York City to see the show. The vouchers are good for performances on Tuesday – Thursday between now and April 29 (subject to availability).
Leave a comment to enter now! Winners will be announced here on March 20.
Earn additional entries for the following:
Spread the word to your theater-loving friends via your blog, twitter, etc.

Contributing editor Jennifer Donovan loves a story in any form — in the pages, on the stage, or on the screen. She manages 5 Minutes for Books and blogs at Snapshot.