This post may contain affiliate links. Read my disclosure policy here.
Last week was tough. The weather was bitter cold. We were all sick and confined to the house. On the rare occasion we left, it was to stock up on cough syrup, soup, tissues, and grapefruits. Needless to say, cooking was not at the top of my to do list.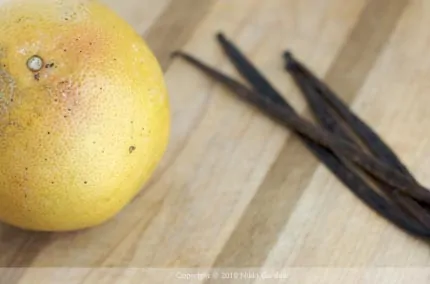 Instead, I dreamed of driving south to the Florida coast. I could almost hear the ocean waves, smell the salt air, and feel myself drift off to sleep beneath the glistening sun. It was an impossible dream, but one that got me through the week along with a few grapefruits that became the inspiration for this recipe.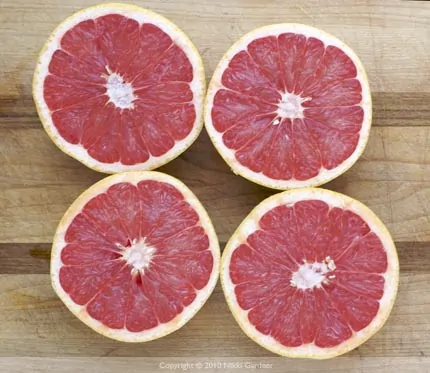 Grapefruit is not a fruit that I usually crave in winter, however broiled grapefruit dusted with granules of vanilla sugar is an entirely different story. It's lip puckering sour flavors soften beneath a caramelized vanilla sugar top, it's like a sparkling sun ray in your mouth. Better still, this recipe is as easy as turning on the oven, cutting the fruit, and sprinkling sugar and berries on top.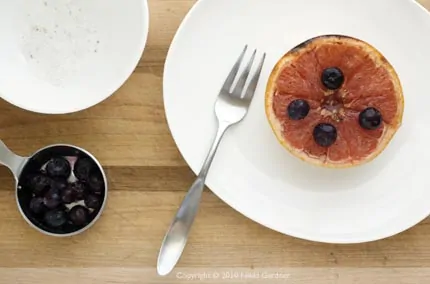 Broiled grapefruit is a no-fuss kind recipe and it can be eaten any time of day, but it's especially good anytime you need a little winter pick-me-up. Now I can start planning that much needed vacation.
Broiled Grapefruit
adapted from Joy of Cooking by Irma Rombauer, Marion Rombauer Becker, and Ethan Becker
Yield 4 servings
2 grapefruits (pink or red)
¼ cup of sugar (1 tablespoon for each grapefruit half)
½ vanilla bean (seeds only, scraped from bean)
¼ cup of berries (blueberries, raspberries, or strawberries)
Cut one vanilla bean in half, lengthwise. With the flat side of a knife, gently scrape the vanilla seeds from the pod. Add the seeds to the sugar and whisk until well blended.
Place broiler rack about 4 inches below the heating element. Preheat the broiler.
Cut grapefruits in half, horizontally. Remove any large seeds along with the white centers. Cut along the membranes and skin with a serrated knife to loosen each section.
Cover a rimmed baking sheet with parchment paper and add the grapefruits. Sprinkle each half with 1 tablespoon of the vanilla sugar mixture.
Broil the grapefruit about 5 minutes or until the tops begin to brown and the sugar caramelizes with a thin crust on top. Garnish with 4 berries for each half and serve at once.
Nikki writes about food, art, and story at art and lemons.