This post may contain affiliate links. Read my disclosure policy here.
Thank you for all the encouraging comments regarding the launch of the new column. We are really excited about it as well.

And congratulations to Lu at Hyperactive Lu, the winner of last week's contest for Ordinary Mom, Extraordinary God. If you didn't win, you can click through to buy it on amazon, or head to your local bookstore and ask for it. Read on for even more giveaways today!

Today is a double feature here at 5 Minutes for Books – with a book for children and a book for you. We will separate the reviews into two posts however, so that you can enter your comments separately. The children's book review, written by Janice, is included here and it is a contest with 3 copies available to win. To enter, make sure you leave a comment on this post. The second review (the book for you!) is written by Jennifer and includes 5 copies to giveaway. Make sure you scroll down or click here to read it as well.

Sweet Arts Design presents a delightful, bilingual Alphabet Book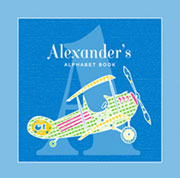 With delicate artwork and gorgeous colors, this beautiful, personalized alphabet book will delight your little one, while introducing them to a second language.
Amy Hallali, a stay-at-home mom with twin girls, created this bilingual children's alphabet book as a way for her French husband to introduce their girls to the French language.
She has now expanded the line to include Spanish and English versions as well. In fact, you can choose between French only, French/English, English only, Spanish/English or Spanish only.
And that is not all – you can make this book perfect for your child, personalizing it with their name and even choosing the cover color!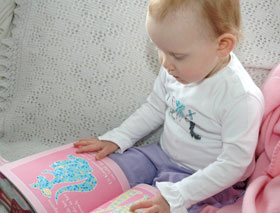 Jackson and Julia will both be going to French Immersion when they start school, so we were thrilled to get this book for Julia. (Julia is learning Italian as well, but since there are no Italian Immersion schools in this part of the world, she will be following Jackson into French Immersion.) With each page written in both English and French – it is perfect for Susan and me as we work to refresh our French while teaching Jackson and Julia.
Amy has created a wonderful little masterpiece — a perfect gift or keepsake for any young child. The books are available in hard or soft covers. We have the soft cover and it is sturdy and durable, with top quality card and paper stock. It truly is a gorgeous little book!
And thanks to the author Amy Hallali, we are giving away THREE soft cover personalized books! The winners get to choose which book they'd like (French only, French/English, English only, Spanish/English or Spanish only,) pick the cover color and personalize it with their child's name.
This is a beautiful book ladies – I am sure your young ones will love it! (Amy is offering our readers a 10% discount. The discount will be applied as a refund because Amy doesn't have that shopping cart feature. Please use code 5M4M in comment box.)

To enter to win, just leave your comment at this post and we will announce the winners next Monday. (This contest is open to Canadians.) After you have left your comment – don't forget to read Jennifer's review and enter that contest as well…