This post may contain affiliate links. Read my disclosure policy here.
Designing Diva – Jewelry Giveaway
Okay Ladies – this is a GREAT one!!!
Of course we couldn't have a Mother's Day Giveaway without fantastic jewelry! And thanks to Designing Diva, we have some gorgeous jewelry to sweeten up our special Mom's Day contest.
Designing Diva is run by Randi-Sue, a Texas stay-at-home-mom and former clinical scientist. After falling in love with jewelry design, Randi-Sue left her scientist days behind her and opened Designing Diva. She runs this independent company right from her own home studio, where she passionately creates each piece by hand.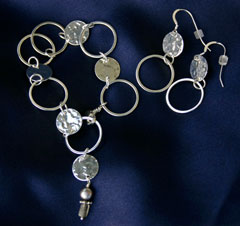 I thought the pictures on Designing Diva looked impressive, but when the bracelet and earring set arrived for me to review, I was blown away! They are stunning, perfectly crafted pieces – simply gorgeous jewelry! I can't imagine how incredible her other pieces must be! Photos just simply can't convey the beauty of Randi-Sue's work.
And here is the great news – Designing Diva is offering one lucky winner her choice of one these pieces (matching necklaces and earrings are included as a set for the prize) OR a $75 gift certificate (includes free standard shipping!) Is that wonderful or what?!?
So take a look at this beautiful jewelry and click over to check out more at her site. And if you don't see one that suits you, Designing Diva will custom design a piece for you!
Also – for the month of May, Designing Diva is offering a 15% off discount to our readers. (Just let her know you are from 5 Minutes for Mom.)
I am sure you all know how to play by now, but in case you are new to our Mother's Day Giveaway, you can read the rules here. Make sure you leave a comment at this post so we know you want to be entered in this contest.
edited to add: Canadians may enter, but please remember that there may be duties or taxes you need to pay when the item crosses the border.
Good luck!
PS – There are still a few more contests to come this week – so make sure you check back! 🙂