This post may contain affiliate links. Read my disclosure policy here.
Mika Brzezinski's motherhood/career memoir opens with her in an emergency room — frantic — holding her infant daughter. She fears that her daughter has suffered brain injury after an overtired Brzezinski fell down the stairs carrying her baby after working overnight shifts at CBS. It's a cautionary tale about the dangers of trying to have it all, but strangely placed within the context of her own somewhat successful story of achieving All Things at Once.
She writes as a mentor:
Motherhood is one of the first things I talk about when I speak with young women about jump-starting their career. "Don't forget to have children," I say. "If you want a family, don't put it off" (page 4)
They don't teach you this type of thing in college. It's a trial-by-fire sort of lesson: the only way to get it right is to get it wrong first (page 126).
Some of us are simply wired for work. Some of us are wired for family. And some of us are wired for all of it (page 179).
The fact that I had not heard of TV news journalist Mika Brzezinksi (formerly of CBS news and currently the cohost of MSNBC's Morning Joe) didn't dampen my interest in the book. I enjoy reading books written by "successful" women who are trying to raise families alongside their careers.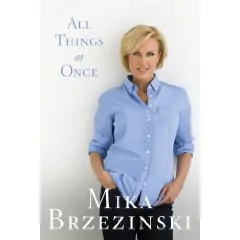 Yes, I put "successful" in quotes. To me, success for a woman comes when she ends up being happy with who she is, within the context of who she is meant to me. I honestly believe for each woman that path is different. One woman might feel completely stifled if she is "just" a stay-at-home mom. Financial burdens might make it irresponsible for a woman not to contribute to the family income in some way. On the other side of the coin, many women choose to be home with their children — either by sacrificing their personal desires, as Brzezinki's own mother did, or as a first choice, as I have.
What makes All Things at Once a bit different than other such memoirs — and a bit better in my opinion — is that Mika Brzezinski has not bought into the myth that a woman can have it all. Yes, she chooses to foster a career that is both mentally strenuous and time-consuming, especially since it doesn't usually take place in the framework of a regular work day. But she recognizes the trade-offs. She realizes that she won't be able to attend every parent night or school event. But it's the choice that she also firmly believes is best for her, and thus best for her family, because "I learned that my kids are better off being with me when I can give them all of me" (page 7).
If you are interested in the path of a visible careerwoman (especially if you are a fan of Mika Brzezinksi's work) or in television journalism in particular, you will probably find All Things at Once to be an interesting read. Or perhaps, like me, you are interested in exploring the wide variety of options open to women.
We have one copy of All Things at Once to give away (U.S. and Canadian residents are eligible). Leave a comment here, and we'll announce the winner in next week's column.
The winner of the Emma Parker & Company silver locket necklace is

#37 (#10 on the Mystery Challenge sign up): Les Blatt)
#30 (#3 on the Mystery Challenge sign up): Amy at Hope is in the Word
#1 Niurka
#9 Snowflake 07 (Audra)
#4 Sheila

Written by book blogger Jennifer Donovan, managing editor at 5 Minutes for Books
*Disclosure: I was provided a copy of this book for review.