This post may contain affiliate links. Read my disclosure policy here.
I recently saw a pre-release screening of the new movie Leap Year starring Amy Adams and Matthew Goode. I was able to take a friend as well, and at the conclusion of the movie she looked at me with a satisfied smile and said, "That's exactly the sort of movie I like."
It was a pretty standard feel-good romantic comedy. Movies like that tend to get a bad rap. They perhaps bring money to the box office, and people will say that they were "sweet" or "funny" or "cute," but rarely are they called "good films."
Isn't one of the purposes of films to entertain people? If you are looking to be entertained Leap Year is a film that will do just that.
I had the opportunity to interview Matthew Goode, and I addressed some of the naysayers that were disappointed to see him cast in a romantic comedy role. He gave a bunch of reasons for why he took the role — the chance to work with a great director along with Amy Adams, who has been twice-nominated for an Academy Award. Then he added, "I sound sort of defensive, don't I?"
But get ready for a big "aw moment," moms. A huge reason that he took the role is because it was filming in Ireland, and the British actor relished the opportunity to work close to home, since he was about to have a baby.
Speaking of babies, I asked him (just before Christmas) if he was looking forward to his daughter's first Christmas. He was totally on to the whole baby game, noting that he knew full well that even though she'd be spoiled by lots of family, she'd be as interested in the boxes and paper as anything else.
He was talking like a typical dad, looking forward to milestones: "She's not walking yet, but she can still play in it and enjoy it," speaking about the snow and the hope for a White Christmas.
Read more of my interview with Matthew Goode at my personal blog, Snapshot, where we talk about acting and his idea of a good date night.
Leap Year is sweet and funny and cute — definitely entertaining.
It's also one of those movies that is beautiful to watch. It's filmed mostly in Ireland, and watching it is almost like being there. You feel surrounded by the green grasses and craggy cliffs.
Check out the official trailer to see exactly what I mean:
Official synopsis:
Amy Adams and Matthew Goode star in "Leap Year," a romantic comedy that follows one woman's determined quest to get married to the perfect guy… despite what fate has in store for her. When their four-year anniversary passes without a marriage proposal, Anna (Amy Adams) decides to take matters into her own hands. Investing in an Irish tradition that allows women to propose to men on February 29th, Anna decides to follow her boyfriend Jeremy (Adam Scott) to Dublin and get down on one knee herself.

But airplanes, weather and fate leave Anna stranded on the other side of Ireland, and she must enlist the help of handsome and surly Declan (Matthew Goode) to get her across the country. As Anna and Declan bicker across the Emerald Isle, they discover that the road to love can take you to very unexpected places. For more information visit http://leapyearfilm.net or their facebook page http://www.facebook.com/LeapYearMovie.
Leap Year opens in theaters January 8. Grab a girlfriend (or that special guy) and go see it!
I have some special movie goodies to offer one of you (U.S. residents, void where prohibited):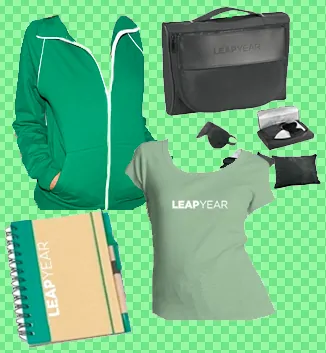 Movie Poster
Airline Comfort Kit (perhaps you are planning a Leap Day trip to Ireland?)
American Apparel track jacket
Fitted scoop neck t-shirt
Journal
Leave a comment to win. The winner will be announced on Saturday January 16.
Disclosure: Universal studios invited me to a pre-release screening of Leap Year.