This post may contain affiliate links. Read my disclosure policy here.
I've been waiting to tell you this recipe.
It's an ideal side dish for the holiday season.
I think you're going to like it.
A lot, actually.
It's a new spin on a Southern-style spoon bread.
You see I have a soft spot for sweet potatoes. Mix them with a few gratings of ginger root, cornmeal, milk, eggs, maple syrup, and molasses, and well . . . let's just call it dinner.
The slight gingery heat balances the potato's natural sweetness. Egg yolks and whites fold into the cornmeal batter for body and rise. The result, a savory whipped custard that melts like velvet in your mouth. It also happens to be good for you.
In short, this spoon bread is staggering and I can't wait for you to try it.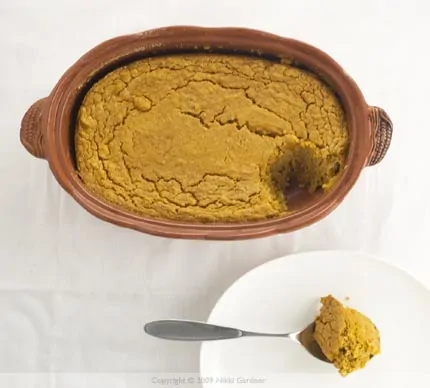 Sweet Potato-Ginger Spoon Bread
adapted from Body + Soul (wholeliving.com)
Yield 8 servings
butter, for baking dish
½ cup yellow cornmeal, plus extra for the pan
12 ounces (2 small) sweet potatoes (peeled and cut into 1-inch pieces)
1 ½ cups milk (whole or low-fat)
2 large eggs (separated), plus 2 large egg whites
½ teaspoon cream of tartar
2 tablespoons pure maple syrup
1 tablespoon unsulphured molasses
1 tablespoon fresh ginger (peeled and grated)
1 teaspoon salt
Preheat oven 350F. Butter a 2-quart baking dish and dust with cornmeal. Steam sweet potatoes until soft, about 15 minutes. Remove from heat and mash until very smooth; set aside to cool slightly.
In a medium saucepan, heat milk to a simmer. Sprinkle in cornmeal and whisk constantly until just thickened, about 1 to 3 minutes. Remove from heat and allow to cool slightly.
In a large bowl, mix mashed sweet potatoes, cornmeal mixture, egg yolks, maple syrup, molasses, ginger, and salt. Whisk four egg whites with the cream of tartar until stiff peaks form. Stir in half of egg whites into cornmeal mixture. Fold in remaining egg white in gentle strokes.
Pour mixture into prepared baking dish, place on a baking sheet and bake until puffed and set, 35 to 40 minutes.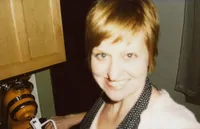 Nikki is a freelance writer and photographer who records the simple things in life: art, food, and story. She blogs at art and lemons.