This post may contain affiliate links. Read my disclosure policy here.
Are you planning a wedding and considering incorporating DIY wedding crafts into your special day?
Wedding DIY projects are all the rage right now, and Facebook, Pinterest, and blogs are flooded with ideas for adding a personal touch to your wedding. But with so much to do in the lead-up to the big day, should you take on added projects? And if you do want to add the charming DIY touch to your wedding, where should you start?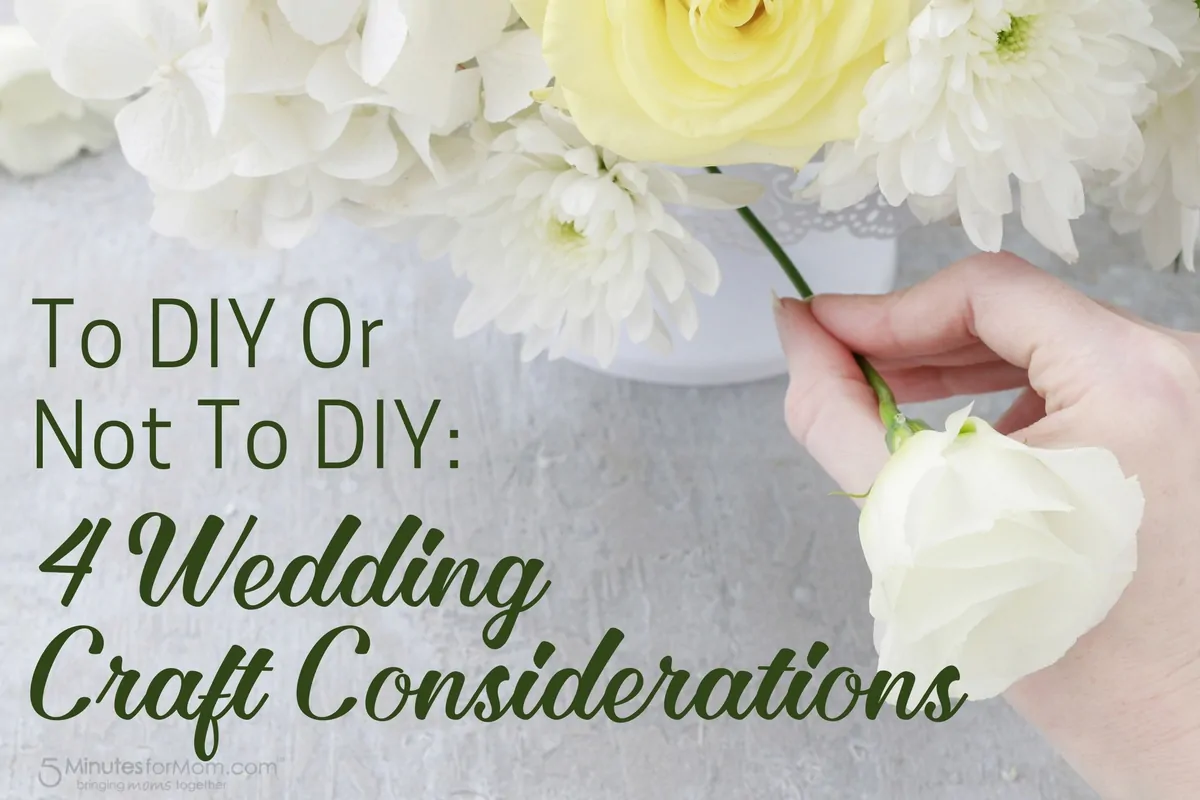 We're here to help you decide what is best for you and your wedding.
Any time you consider a wedding DIY, it's important to consider your skill set, the necessary supplies, and your backup plan. As wedding guru Joelle from Every Last Detail notes, shopping from Etsy is just buying DIY!
So if you want the handmade look, but worry that you don't have the time or the skills, take a look on Etsy.
If you're drawn in by DIY, these 4 steps can help you determine how much crafting you can handle. Remember: your wedding should create joy not stress.

Try Something Simple
One of the best ways to determine your DIY-readiness is by trying a simple, inexpensive project before taking on something bigger. For example, if you're new to DIY, don't start with making 100+ favors when you could make a few centerpieces. Keep it small.
A perfect project to start with is making table signs, whether for guest tables or the gift or dining areas. To start, grab a vintage plate, paint, and a stencil and our kitchen sign DIY guide. Though this DIY is meant for home décor, it's easily adapted for weddings using different stencils. If you can make a simple stenciled sign, then you can move on to something more challenging.
Go 50/50
If you want to take on a larger wedding DIY, such as making place card holders, we recommend going 50/50 – crafting one aspect and having another part professionally done. For Your Party's charming gold succulent project is a great example of this. All you need for the place card holders are fake succulents and gold spray paint, which is about as simple as it gets. But you're better off having the cards themselves professionally printed unless you're a trained calligrapher. It's a perfect balance.
Get Support
Because DIY projects are so popular today, most bridesmaids assume they'll be doing at least a little crafting as part of a wedding party, so if you're in a time crunch or struggling with a project, give your squad a call. Bridesmaids make the perfect companions for everything from invitation stuffing assembly lines to more complex favor crafting. Just add wine and you've got a productive ladies-night-in.
Find A Guide
Many of the details that go into a wedding are prescribed by tradition, but if you aren't a professional wedding planner, it's unlikely you know all the finer points. For example, writing up the text for your wedding program may seem fairly simple, but it can actually be very elaborate depending on your family's traditions. Rather than trying to remember all of the parts yourself, look for a guide to the process.
There are many blogs such as Bride On A Budget that can help you find ways to save money on your wedding and discover pretty DIY projects. The Knot offers a great point-by-point wedding program guide, covering both the basic ceremonial order as well as ideas for personalization, crafting tips, and presentation of the programs. Even if you don't craft the programs yourself, you'll likely need to write out the general content for the printer or wedding planner, so these instructional supports are universally handy.
When planning a wedding, leave yourself plenty of time for testing DIY projects – and buying backup items if needed. There's no shame to not hand-crafting every piece of décor for your wedding, so don't let the pressure weigh you down. You're creating something bigger than that: a beautiful celebration of your relationship with your spouse and your future together. Whether or not you can arrange silk flowers is beside the point.
Pin it for Later