This post may contain affiliate links. Read my disclosure policy here.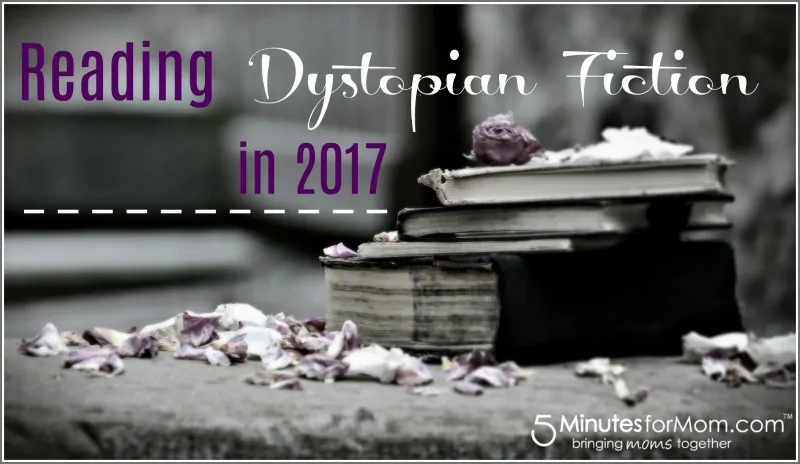 At the end of 2016, I was suddenly gripped with the idea that I wanted to read more dystopian fiction. No, I needed to read in that genre, if not for entertainment, then possibly for instruction. In the seven months since I decided to read one dystopian novel a month, real life has gotten more surreal than I could imagine even half a year ago. Don't worry, no political ranting from me is to follow, but regardless of political affiliation, I know I'm in the company of many, many folks who are surprised on a daily basis at current affairs. How does dystopian fiction relate?
Dystopian literature's aim is to explore the social and political aspects of life after some sort of significant change to society as we know it. Think governmental collapse, planet-scale war, environmental disaster, that sort of loveliness. Despair is a common theme, not necessarily the biggest draw for potential readers, but so is human resiliency, compassion, and connection. At a time when unprecedented political stories become old news, I can't help but be drawn to stories of resistance, even if they don't necessarily have happy endings.

This year, I've read seven dystopian novels, some for the first time, others as re-reads because they are so classic as to deserve to be consumed again and again. From my personal 2017 reading list:
The Unit

I finished The Unit by Ninni Holmqvist a few days ago, but its characters and story are still in my thoughts. Here, the worth of individual people is measured by whether one is 'needed' or not, and a clear line has been drawn indicating that if one is childless after the age of 50 for women and 60 for men, that individual is declared 'dispensable.' At that point, they are brought to live in a unit where all of their basic needs are met, along with lavish facilities to keep them entertained and comfortable, while they are expected to participate in medical experiments and donate their organs to 'needed' people one by one, until their final donation. I found this to be a haunting exploration on how we value individuals within the larger society, and I was entranced, as you can see in my full review over at 5 Minutes for Books.
1984
No list of dystopian literature would be complete without George Orwell's 1984, and I chose it to start off my year of reading the genre back in January. Little did I know that the concept of doublespeak imagined by Orwell almost 70 years ago would play out in our present day! This novel is incredibly quotable, but this one sums up the novel succinctly and precisely: "The Party told you to reject the evidence of your eyes and ears. It was their final, most essential command." Reading how Winston Smith tries to resist in a world of totalitarian control is moving and tragic.
The Handmaid's Tale
In part because of a phenomenal adaptation on Hulu, Margaret Atwood's The Handmaid's Tale is soaring in sales once again. I read this when I was in high school, and I remember being affected by it, but moving on pretty quickly. (Ah, the innocence of youth!) This time around, it's a bit more difficult to dismiss. In this dystopian U.S. society, the delineation between church and state has been dissolved, and the radical religious government forces fertile young women to become handmaids, essentially property owned by important families with the goal of becoming pregnant by the patriarch of the family to help rekindle the plummeting national birth rate. If you aren't familiar with this story, it's a must-read or must-watch.
The Parable of the Sower
In The Parable of the Sower, by Octavia Butler, less attention is paid to how society changed, but the effects of economic and environmental crises have left all citizens at risk. Security is the number one concern, as humans have resorted to the basest of impulses, either out of desperation or as the result of extreme drug cocktails that elicit animalistic behavior. The teenage protagonist Lauren is an empath who experiences the pain of others, and she is determined to create a new society with a revolutionary, yet very simple, idea she calls Earthseed. The struggle for survival is a testament to the human spirit among this cast of characters.
Brave New World
Another well-established classic in the genre, Aldous Huxley's Brave New World was actually a first-time read for me. At first glance, the society in this novel seems orderly and efficient. There is no pain, no suffering, and technology has solved so many common ailments. However, the removal of pain comes at a cost, for it also includes a removal of all art and beauty on the small scale as well as the basic loss of humanity as we know it. Technology has helped to create a caste system of humans from the very beginning, with the development of classes of people to serve very clear functions, and those in the lower strata have no idea that they are missing out because their brains are not allowed to develop this understanding through both biological manipulation and indoctrination. I was truly frightened as I read this book for its twist on the utility of technology is horrifying.
Never Let Me Go
I had seen the film adaptation of Kazuo Ishiguro's Never Let Me Go several years ago, without even realizing it was first a novel. Interestingly, this novel isn't overtly dark or set in an unfamiliar world. It could be seen as more of a character study and the dystopian scenario in which the characters live adds another layer to their experiences. However, there is a universality to their human experience of emotions and development that overpowers the dystopian setting. The setting certainly makes readers think about moral and ethical questions of medical and scientific technology and advancement, though. Overall, this is a beautiful and touching novel about the human spirit and heart.
When She Woke
When She Woke by Hillary Jordan is only a few years old, and its premise shows a contemporary viewpoint. Again, church and state are no longer separate in the U.S. and the judicial system now promotes a unique form of punishment. Convicted criminals are biologically altered so that their skin now reflects a color that matches a category of their crime. How can Hannah, now a convicted murderer for having undergone an abortion, survive in a society with her bright red skin announcing her choice to the world? The politicization of religious beliefs is a common theme in dystopian literature, and this presents one possibility for a not-so-distant future.
Pin for Later