This post may contain affiliate links. Read my disclosure policy here.
Christmas may not be around the corner, but you still might want to start thinking about your holiday shopping. Christmas is a stressful, expensive time of year. You spend so much time and energy worrying about getting the perfect gift at the right price that you often forget to enjoy the season.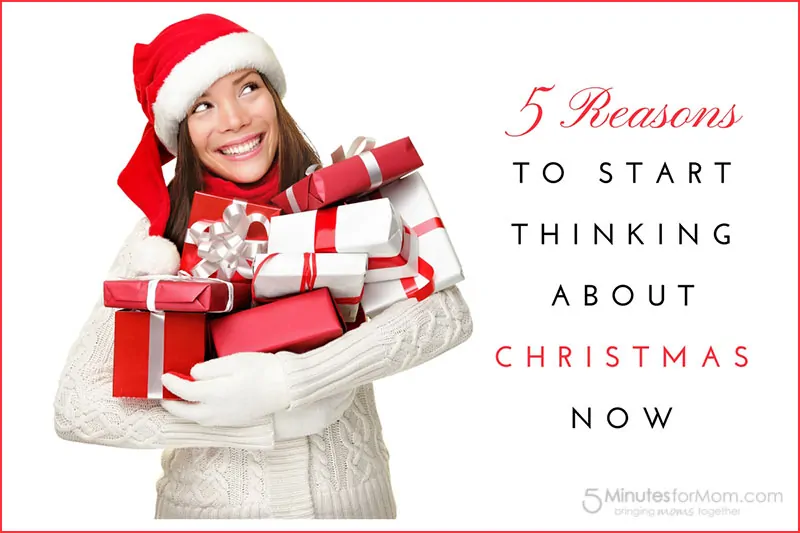 Much of the stress and financial burden can be minimized by simply planning a little early this year. If you're not convinced, here are five perfectly good reasons to start your Christmas plans now.
1. Avoid Excessive Debt
Perhaps the biggest advantage of preparing early for the holiday season is financially based. The average holiday spending for 2016 was just over $1 trillion, an increase of 4 percent from the previous year.
More than half of Americans actively plan to go into debt in order to afford their holiday shopping, and many more go into debt, even though they initially believed their checking account could cover the cost. The average credit card balance following the holiday season is just under $1,000 per household, which will take most people about six months to pay off.
The holiday season doesn't have to include the stress of bills you can't immediately pay. Save a little extra every month to cover the extra expenses at the end of the year. If you saved just $150 a month starting in July, you'd have more than enough to avoid the average household holiday credit card debt.
2. Find the Perfect Gift
The time for gift-giving often sneaks up on you. December is full of last minute shoppers, scrambling to get the last goodies on the shelf and weighing down mail delivery services with their online orders. It's difficult to find the perfect gift for your loved ones when you only give yourself three weeks to plan.
Instead of buying a sub-par gift at the last minute, think, search, and plan several months ahead. You might come across the perfect gift in a small boutique store or in an online shop that ships from China. You don't have to worry about late shipping if you order in advance.
You can also order your gift baskets for neighbors and co-workers ahead of time in order to beat the rush. You'll get the best price and selection if you order before demand rises or the shop runs out.
3. Enjoy the Holidays When They Come
The holiday season seems to fly by every year because you're too busy to slow down and enjoy it. Between family programs, parties, and shopping, there's very little time to watch the snow or listen to your favorite holiday music while sipping eggnog.
As you spread out the shopping, travel arrangement preparation, and party planning over the months preceding Christmas, you'll be able to slow down and be present with your family when the season arrives.
4. Take Advantage of Sales
Things usually don't go on sale right before Christmas because demand is high. If you want to get great deals, especially on clothing, electronics, and the year's hottest toys, watch for sales early on. Memorial Day, Labor Day, Black Friday, and other holidays often have the best prices, but these savings are only available if you plan ahead.
Make a list of everyone you need to shop for now. If you have some gift ideas in mind, jot those down. Keep your eyes open for low prices, coupons, and other ways you can save on the hottest products.
You might also take advantage of back-to-school sales for crayons, socks, underwear, shoes, clothing, and other stocking stuffers when they're at rock-bottom prices. Buy your husband a new snow blower during Labor Day weekend blowouts. You'll be amazed at the deals you can get by watching the market throughout the year.
5. Make Handmade Gifts
A DIY or handmade Christmas often creates some of the best memories. You'll also save money in the process. However, you won't be able to create much if you wait until just a couple weeks before Christmas to start.
Now is a great time to gather ideas for your homemade Christmas gifts. If you give yourself plenty of time, you can space out each of your craft ideas so that you're not overwhelmed in December.
Everyone wants the feeling of the holidays to hang around all year long, and if you play your cards right and plan ahead, you can maintain that spirit month to month without the negative financial repercussions.
Pin for Later
Pinning and sharing is so appreciated!