This post may contain affiliate links. Read my disclosure policy here.
5 Minutes for Books' reviewer Dawn shares a new picture book perfect for snuggly bedtime reading. Don't miss the prize pack giveaway! Thanks to ZonderKidz for sending me a copy of the book and providing a prize pack for our winner.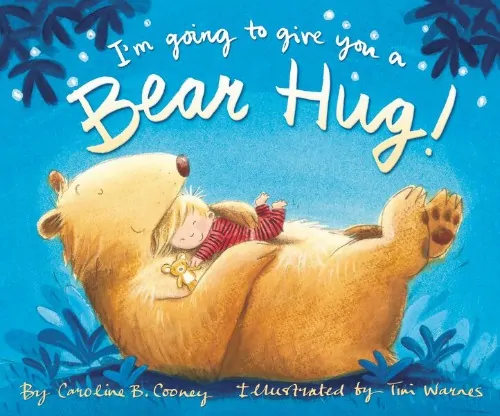 The day is winding down, your child has been fed and bathed, and bedtime is nigh. You grab a picture book, or two or three, and you get to enjoy the incomparable feeling of snuggles from your little one as you share in the joy of reading. Written by Caroline B. Cooney and illustrated by Tim Warnes, I'm Going to Give You a Bear Hug! is a perfect bedtime story for families and young children, even encouraging them to amp up those cuddles into funny different types of hugs.
A teddy bear-toting little boy runs through the first two pages of the book, right into his mother's arms, as she describes the bear hug she's going to give him– "A show you how much I care hug. A good night, sleep tight, way beyond compare hug." The illustration then switches to the boy getting a squeeze from a big, fuzzy bear whose paw pads cleverly have the same polka dotted pattern as the mama's dress.
But the hugs don't stop there! Can you picture what a dog hug might look like? How about a duck hug? Or my very favorite of them all- a fish hug? In Cooney's hands, these hugs are creatively and humorously described with rhythm and rhyme, sure to bring some giggles out of your child. Take a minute to watch the book trailer to get an idea of the flow of this fun story.
This picture book is fun for both adults and children, making it a lovely gift for a child or a new parent. Do you think it would fit in well with your bedtime routine?
Looking for more info? Check out author Caroline B. Cooney on Facebook, and follow ZonderKidz on Twitter, Facebook, and Instagram.
Enter to win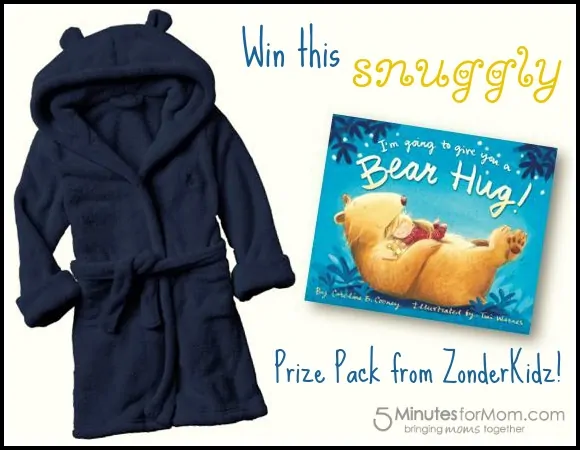 Enter below for a chance to win
your own copy of I'm Going to Give You a Bear Hug!
a bear-y cute bedtime robe for your little one!
Giveaway is open to U.S. addresses only. Prizes and samples provided by ZonderKidz.
Pin it for Later
Pinning & sharing is so appreciated!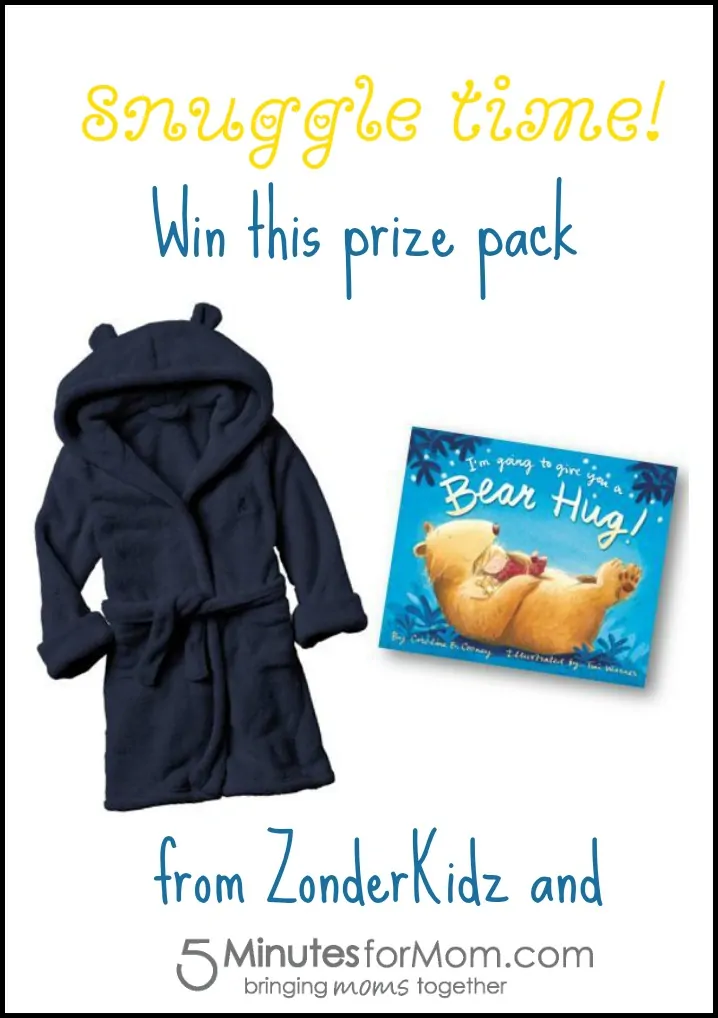 Disclosure: This post is sponsored by ZonderKidz.
Written by Dawn, contributor for 5 Minutes for Mom
Talk with us: @5minutesformom and Facebook.com/5minutesformom
Pin with me at http://pinterest.com/5minutesformom/