This post may contain affiliate links. Read my disclosure policy here.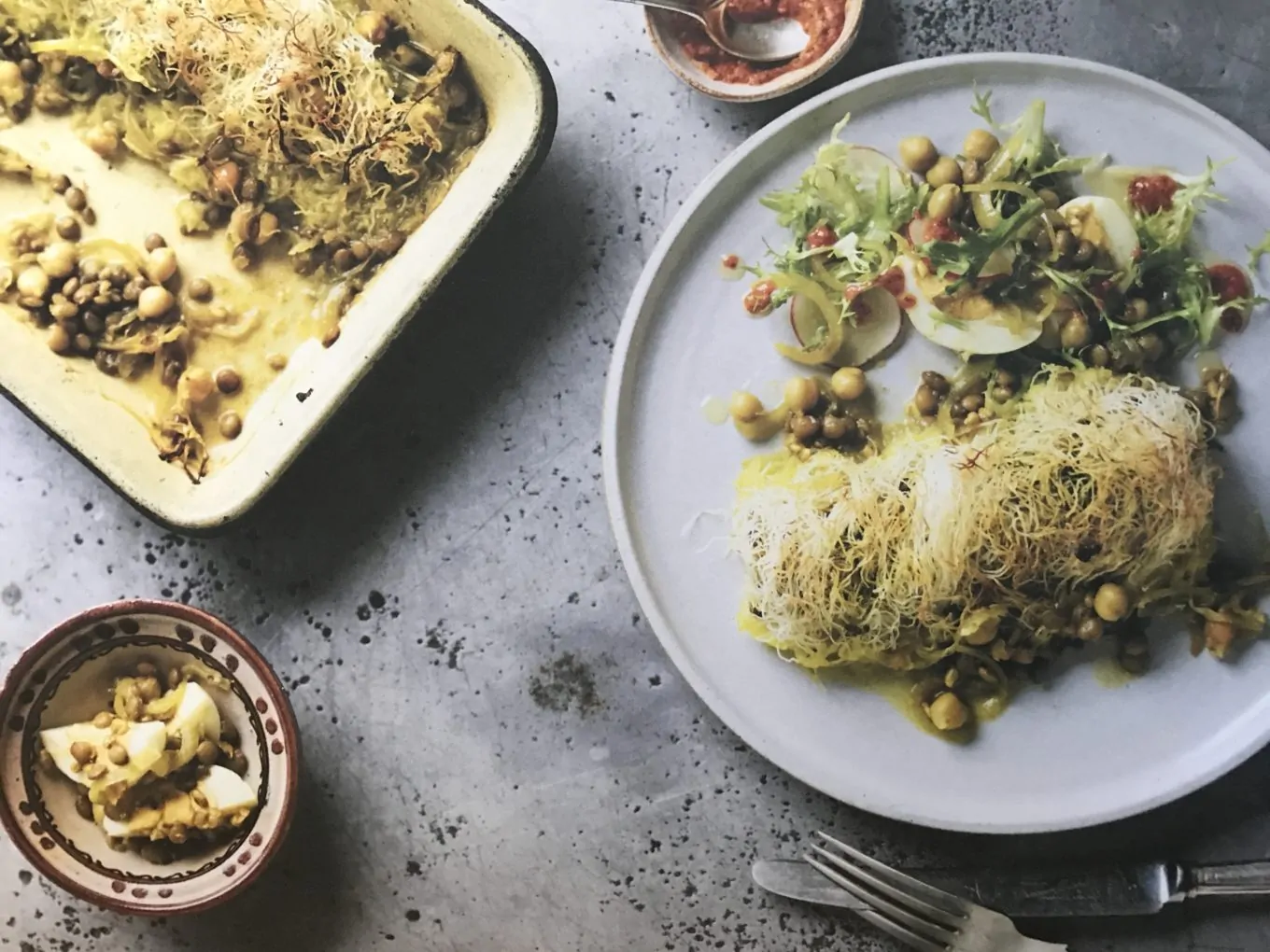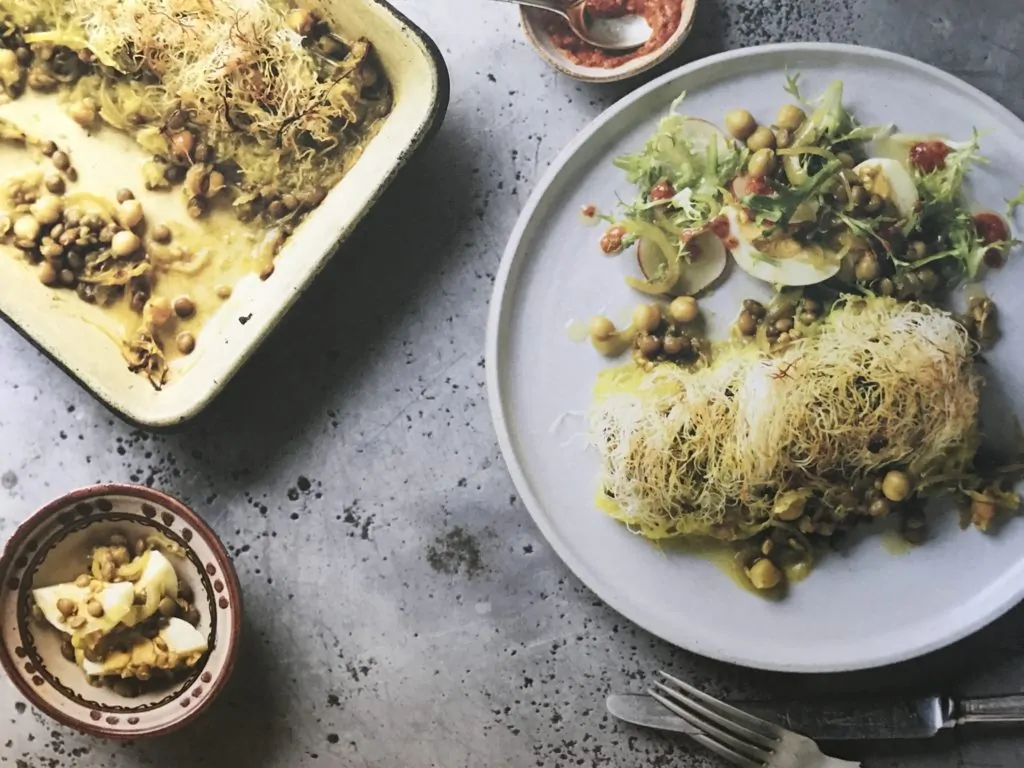 Rfissa; Moroccan-inspired recipe by Shane Delia.    photo credit: Interlink Publishing Group

I love cooking (and eating!), and I especially love the food of the Middle East and Mediterranean. They are masters at blending flavors and spices to create food that somehow can instantly become comfort food, even if you happen to have grown up in a British/American household. I don't know what it is, but somehow a creamy, smokey baba ganoush smeared on a piece of  hobs (arabic word for bread), or the texture of a crunchy warm falafel contrasting with the smooth and refreshing tzatziki, feels like home to me. And so I was excited to try East/West: A Culinary Journey, a new cookbook by Australian chef Shane Delia, documenting his travels throughout the region.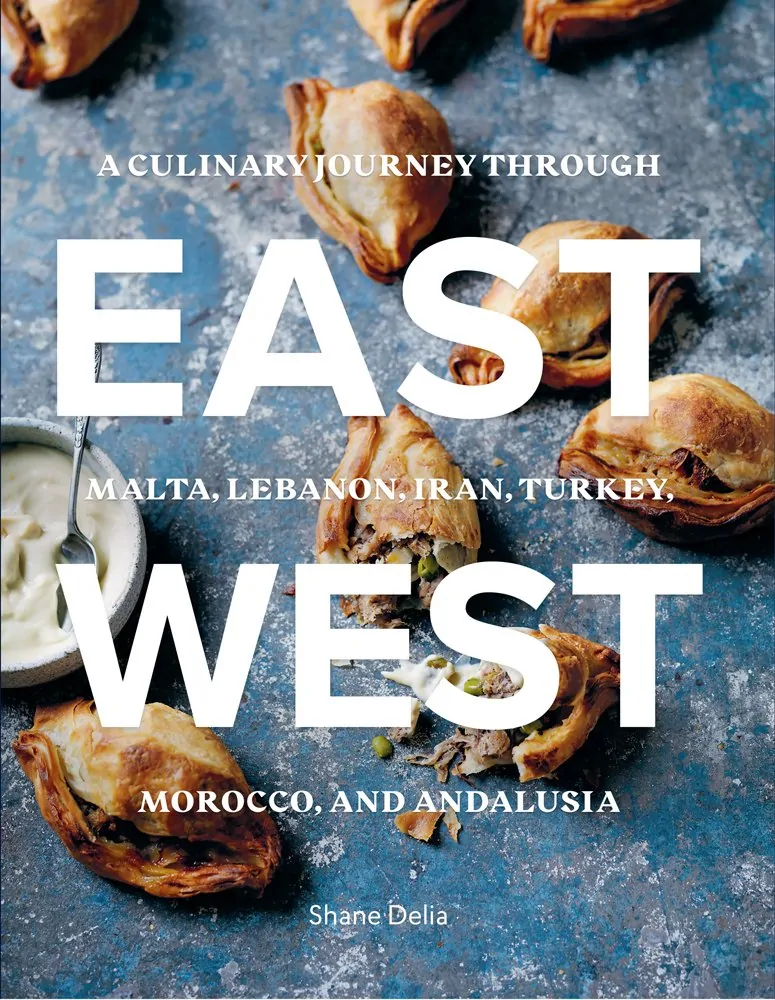 Two things stood against me. First of all, this is a cookbook written by an actual chef, and as such is more than a little intimidating for your average home cook. The titles of the dishes, the pictures of things professionally plated with little smears of color here and dabs of puree there, showed me quickly that much of this book would be beyond my scope. (Example: Mastic pudding with chocolate soil, blackberry sorbet, and rosemary pearls. Yum! But not something to whip up for a last-minute family meal) As a professional chef, Delia chose to be inspired by the flavors and textures of a place to create his own dishes, rather than to reproduce the classics of a region, and honestly, I want to visit his restaurant because these creations look and sound amazing!

I'm not sorry to have the book on my shelf, because tucked here and there are little gems that are possible to make without too much hassle or too many strange ingredients. Additionally, the book tells the story of a journey Delia went on, from visiting his grandparents on the tiny island of Malta, to Turkey, Iran, Lebanon, Morocco, and finally Southern Spain. I have been to 3 of these places and have friends from 2 of the other places, so I feel well qualified to review it.
I had made 3 dishes from the cookbook, and bought the ingredients for another two, when disaster befell (Perhaps too strong a word? You decide). Once a month, we host a potluck gathering at our house consisting of volunteers from the non-profit we run. Last month, I decided to do a complicated Moroccan-inspired dish from the book called rfissa. It consists of chicken, marinated in tumeric, ginger and saffron, cooked with fenugreek (you soak the seeds for 2 hours first), lentils and chickpeas, then shredded. Part of the sauce is served over salad with radishes and hard-boiled eggs. Meanwhile the chicken mixture is rolled up in shredded file dough (called kataifi; you can buy it at international markets) and then baked. It took me 3 days to make this dish, mostly because I kept not finishing it and putting it in the fridge for later (especially because soaking the fenugreek for 2 hours means you can't start cooking at 6 p.m). Finally I had it all assembled. I turned on the oven to preheat, and wondered at the little buzzing noises it was making. When I opened the door to check, I saw the element itself on fire, merrily burning away at the back. I turned off the oven, called my husband (him: What is it? me: Nothing much, just a small fire in the kitchen. him: rushes in.)
What to do with my lovely dish of rfissa? I decided to cook it in the microwave. This didn't really work–for one thing the pastry did not get crunchy–but the dish still tasted really good (she said modestly) and everyone enjoyed it, which tells me that if I ever manage to do it correctly, it will absolutely rock.
I also made Saffon-Mandarin marmalade, which is amazing but runny. It's a bit too liquid for toast, but it is stunning spooned over a pound cake and served with vanilla ice-cream. I also sautéed chicken with onion and spices like tumeric, ginger, nutmeg, cinnamon and coriander, then added spoonfuls of the marmalade, and served the dish with brown rice steamed with dried cranberries. It was so good! The tangy-sweetness of the marmalade matched the savory chicken to perfection.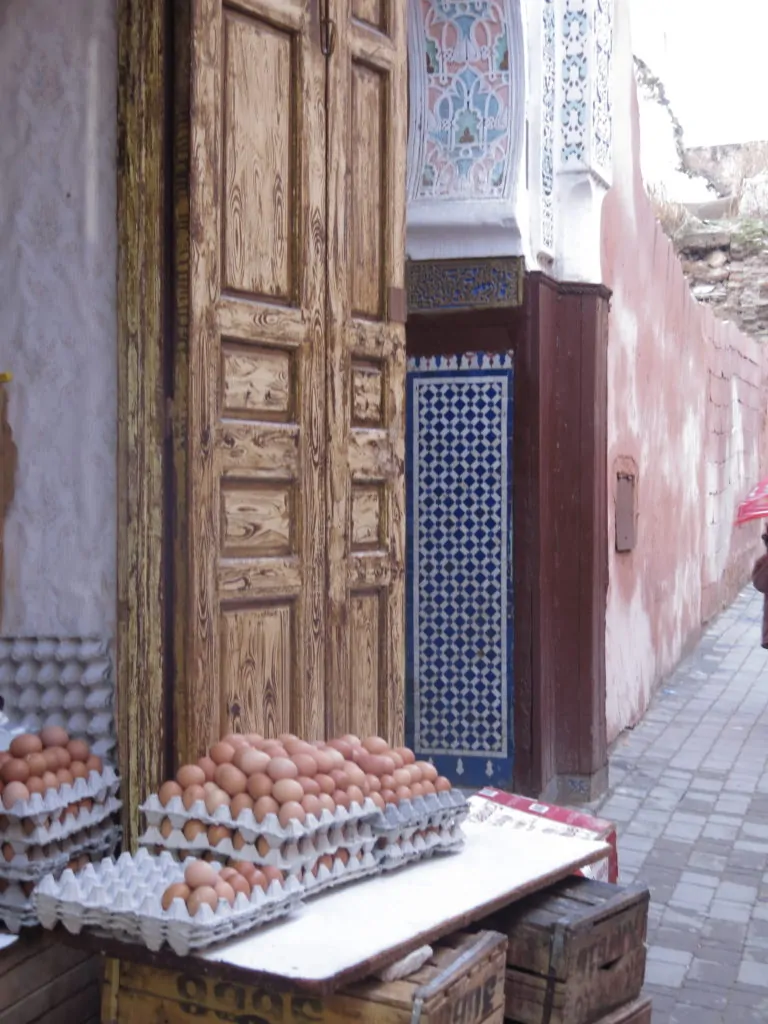 Eggs for sale on a street in Meknes, Morocco; photo by Elizabeth Jones
I also want to add that the complicated chef-y recipes are broken down into manageable steps, and that if you like a challenge at all, this would be a great addition to your kitchen. I am planning to make several more recipes from the book, especially the fig-walnut ice cream. East West: A Culinary Journey is a great resource.
As for my oven, I'm not mourning it at all. I am actually very excited that it has gone the way of all flesh, because that means I get a new one! Now we just need to put in a new floor first….