This post may contain affiliate links. Read my disclosure policy here.
Thanks to Warner Bros. Pictures for sponsoring this post and giveaway prizing.
I have been looking forward to this movie for so long, and now the wait is almost over: LEGO Batman Movie opens in theaters February 10. I know it's going to be entertaining and funny, and look how visually stunning it is:
The LEGO Batman Movie – In Theaters February 10
In the irreverent spirit of fun that made "The LEGO® Movie" a worldwide phenomenon, the self-described leading man of that ensemble – LEGO Batman – stars in his own big-screen adventure. But there are big changes brewing in Gotham, and if he wants to save the city from The Joker's hostile takeover, Batman may have to drop the lone vigilante thing, try to work with others and maybe, just maybe, learn to lighten up.
Will Arnett reprises his starring role from "The LEGO Movie" as the voice of LEGO Batman, aka Bruce Wayne. Zach Galifianakis ("Muppets Most Wanted," the "Hangover" films) stars as The Joker; Michael Cera (TV's "Arrested Development") as the orphan Dick Grayson; Rosario Dawson (TV's "Daredevil") as Barbara Gordon; and Ralph Fiennes (the "Harry Potter" films) as Alfred.
Rated PG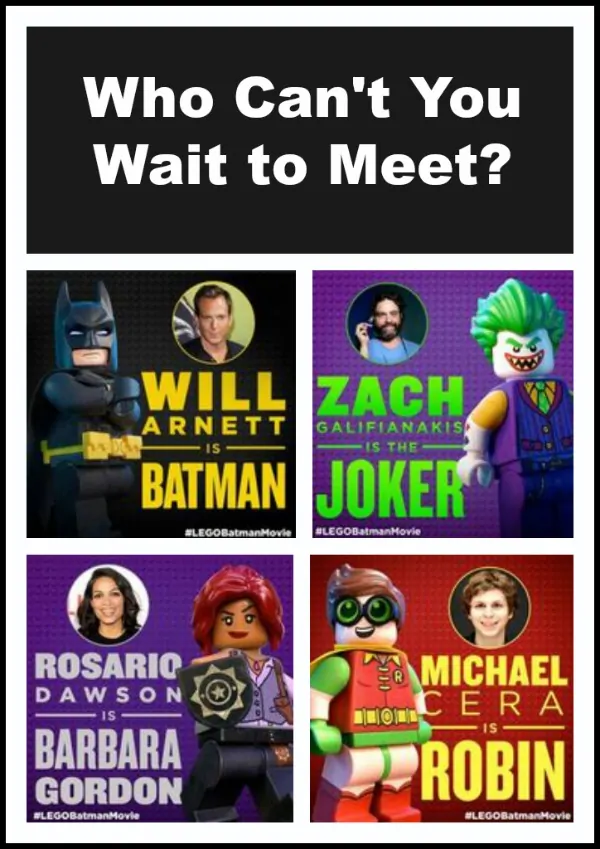 Advanced tickets now available? What a knockout! Get yours today! #LEGOBatmanMovie http://tickets.legobatman.com
Want to pique your interest before you see the movie, or keep the love going after you see it?
Visit the Official Website
Like 'The LEGO Batman Movie on Facebook
Follow on Twitter and Instagram
Download the LEGO Batman Movie App — Run like Batman, drive like Batman, DJ like Batman. Do it all in the LEGO Batman Movie Game App, now available for free on the App Store and Google Play! See a Preview and Download now.
Enter to Win

$50 Visa to see the movie in theaters February 10
LEGO Batman Movie T-shirt, lunchbag, and stickers